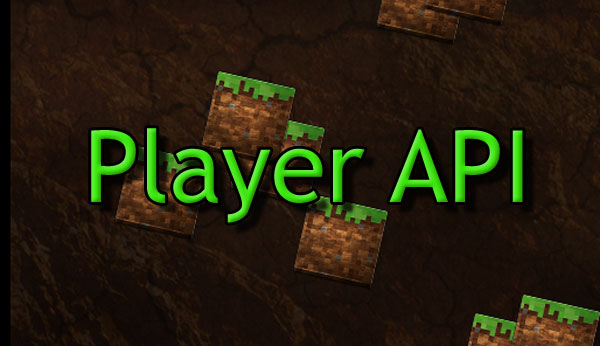 Player API 1.12 is a type of Library.Core/API which Mod Developer of many famous mods such as Aether, Smart Moving Mod, Flan's Mod, Galacticraft Mod uses to build mods or add new content to the Minecraft modding community.
With Player API, you can access to client, server, and bukkit classes and simultaneously reduces incompatibility between mods. Many popular mod was created basing on Player API which makes Minecraft community develop much more. However, until now most of mods are not depended in this mod anymore, just some mods from author of Player API still use this mod such as Square Moving or Smart Moving. If you are player who usually implement many mods at one time, this mod is surely indispensable.
Features:
Gives you access to client, server, and bukkit classes for much more control over the mod you are creating.
Player entity class is accessible for custom movement and more
Player API is an API which provides access to
the client class "EntityPlayerSP"
the server class "EntityPlayerMP"
while minimizing conflicts between mods.
How to install:
make sure you download the right file:
read the "installation" section of your download's readme files
Incompatibilities
Player API server is compatible with Minecraft Forge server, just install Player API server after Minecraft Forge server.
Player API 1.12 Download Links:
Previous versions:
For  1.5.2
For 1.6.2
For 1.6.4
For 1.7.2
http://dl.niceminecraft.net/download.php?file=15d451e6a0de9d2a52ed751aed9a88ae
For 1.7.10
http://dl.niceminecraft.net/download.php?file=ceb33e10ac3883693969a4b64c7dc204
For 1.8.0
http://dl.niceminecraft.net/download.php?file=b0c7d2ccb9fd8da2025512507875c202
For 1.8.9
http://dl.niceminecraft.net/download.php?file=56ab5fbaebfaf6df05b137793b8d4c4c
For 1.9.4
http://dl.niceminecraft.net/download.php?file=373048573496f87b7da8d895e0eb5de0
For 1.10.2
http://dl.niceminecraft.net/download.php?file=d1730bebfc2ab12aa60fc25a908db14a
For Minecraft 1.11.2
(Not updated yet)
Credits: Divisor