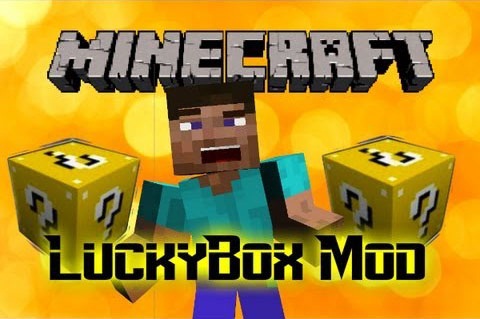 As the name suggested, Lucky Block Mod 1.14.3 is actually an interesting mod that provides players with over 100 lucky block. This mod looks like old coin blocks from Mario game, but the thing makes the mod so much fun is that you will never know what including in the blocks when you break them out.
This mod features with many Lucky Blocks scattered randomly around the world and it's up to your destiny because you may get lucky block or unlucky block. If you are lucky enough, the lucky mod will spawn some ingot, diamonds, a stick, a full enchanted tool or more valuable items. On contrary, there will be the worst things you can get is Ender Dragon or be blew by a ton of TNT.
Well this mod is exactly designed for the gamblers. If you are afraid that lucky block affecting your world, it's highly recommended that you should back up your world before trying this mod out. So don't hesitate to try your lucky destiny to have amazing effects.
Read more: Lucky Block Red Mod – Lucky Block Blue Mod
Description:
Gold. Think about it, there isn't much use for it really. There's no point wasting your gold on tools, swords and armor. How many clocks do you need when you can just look at the sun. And if you need gold nuggets to make potions, all it takes is one gold ingot and you already have nine.
Do you wish there were better things to do with your gold? Or maybe if you could exchange it for something else?
Now there's a block that makes gold worth mining. It's called the Lucky Block, and can be crafted with 4 gold ingots and a dropper, and can also be found naturally in your world. When you mine this block it will have an equal chance of dropping items, spawning entities or structures.
Warning: If luck is not on your side, this block may have devastating effects on you or your world. It is recommended that you backup your world, use a not important world or go hardcore and take the risk.
Features:
Luck Levels
Lucky blocks can get different 'luck levels' if you put them in a crafting table with certain items.
The 'Luck' of a lucky block is diplayed as a bar from 0 to 100
The higher the luck level, the more likely it is the lucky block will give you something good.
Luck levels can also be negative, 0 to -100. Negative luck levels make lucky blocks unlucky.
There are 3 Lucky Blocks in the creative inventory. One is normal, one has a luck level of 80 and one -80.
Only Lucky Blocks with a luck level of 0 can be stacked.
List of items that affect the luck level is under 'Crafting'
Generation
Lucky blocks can now also generate inside of custom structues.
The current structures are a quartz 'greek temple' structure and a wreckage of stome bricks and netherrack.
Lucky blocks in the temple will have a luck level between 50 and 100, but in the wreckage it's -50 to -100!
By default, there is a 50/50 chance a lucky block will spawn on its own or in a structure.
Lucky Blocks on their own have a luck level of -20 to 20.
Spawnrate back to 1 in 200 per chunk.
Drops
Added 100 new drops!
A temple with 8 Luckly Blocks (rare).
2 Lucky Blocks. One lucky. One not. Choose wisely.
A bunch of different types of fish, with a fishing rod.
A villager riding on top of a stack of pigs.
Horses!
A pointless silly message about grave danger and mushrooms.
Other Features
3 different wishing well structures. Throw in a coin, and see which with you get.
3 trading villagers. They will offer you all the lucky tools/armour/weapons at a reasonable price.
Giant slime! Taller than the trees! Sometimes even a Magma Cube!
Lucky potion with random positive effects.
Unlucky splash potion with random negative effects.
Tamed wolves with different colour collars!
Tamed cats, with different colour skin.
Aghast! It's a Ghast!
A witch amongst a cloud of bats.
Lovely bouquet of flowers.
A bunch of enchantment books.
Some useless, random and hopefully humorous jokes.
What can it do?
Drop a huge variety of items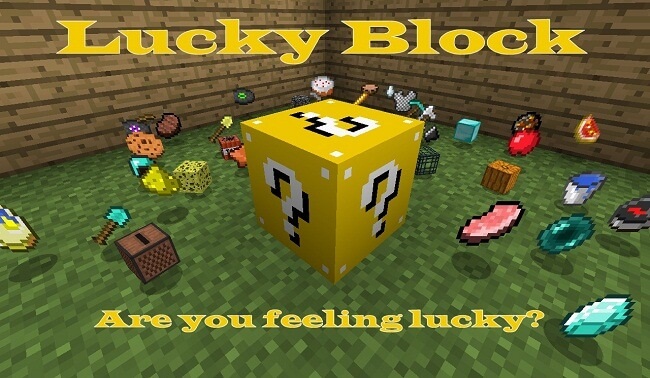 Spawn mobs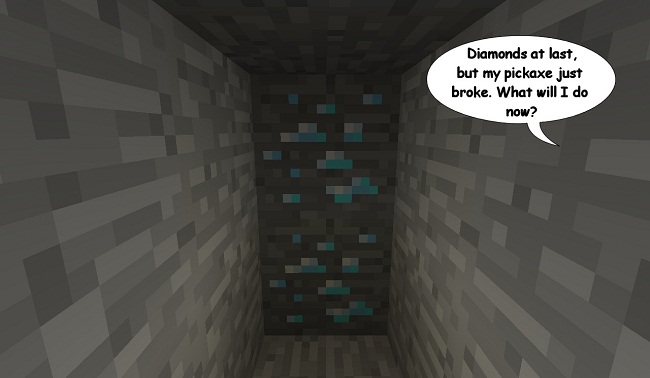 Spawn other entities (Like fireworks)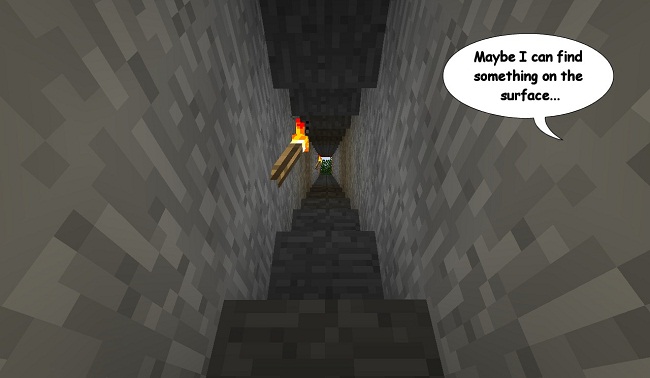 Make structures (What could possibly be above you?)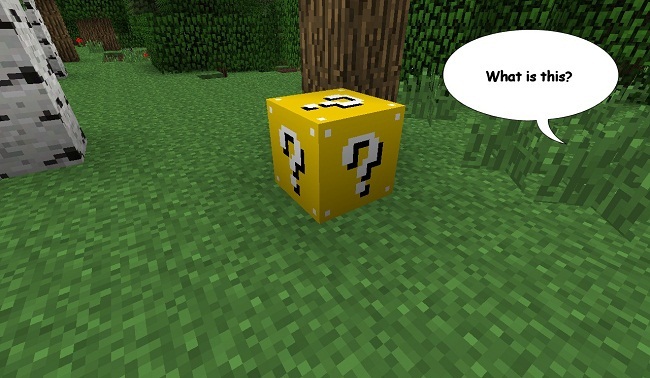 Screenshots:
Make a wish and throw in the coin!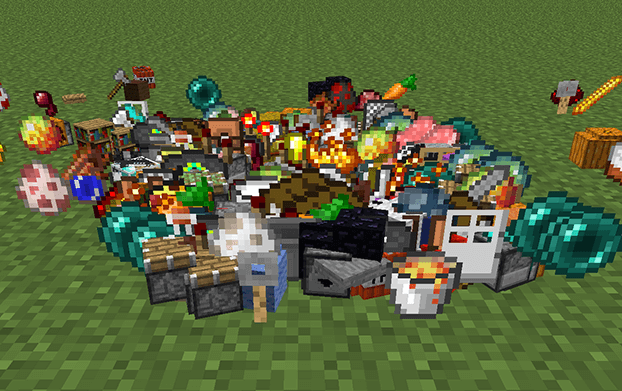 Unique wolves with different color collars!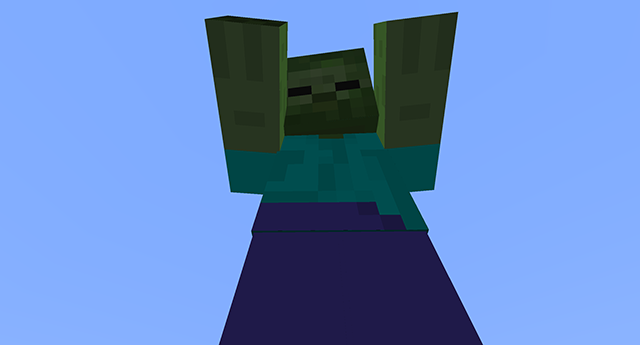 Bet you didn't know they could grow that big?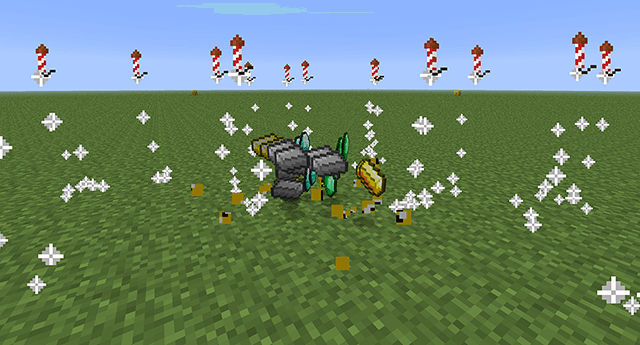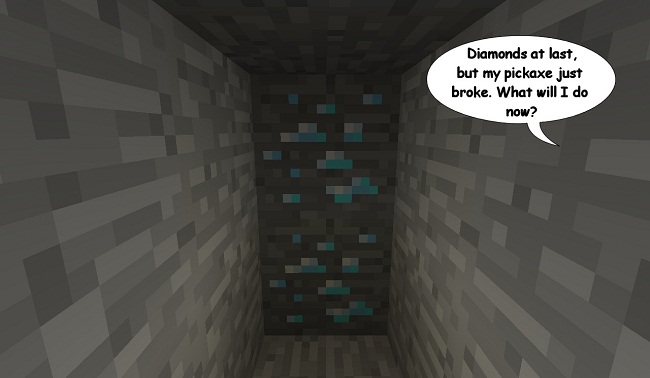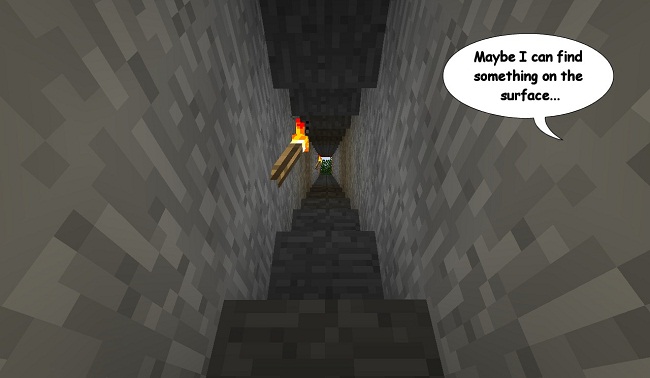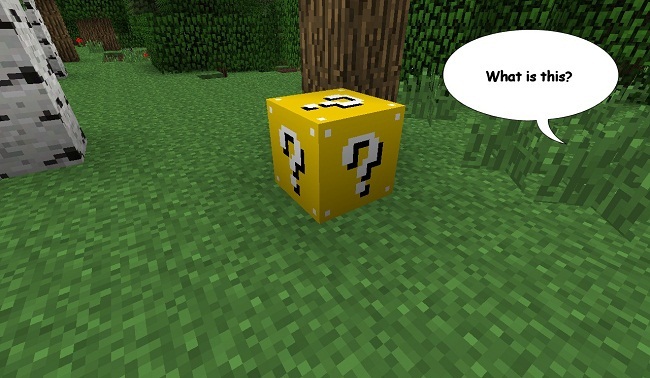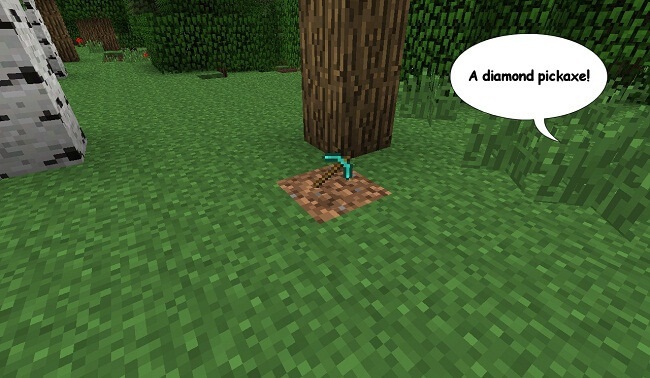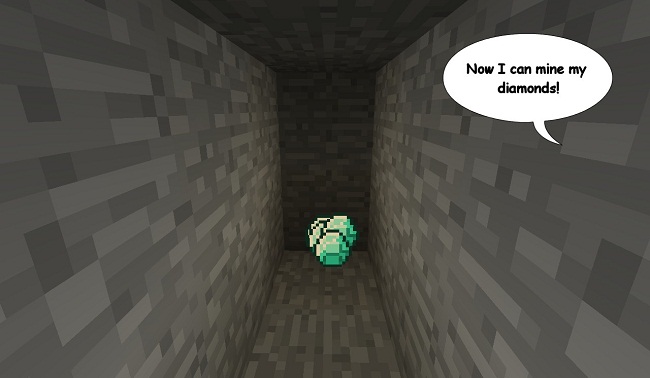 Recipes:
Regular crafting:
Adding luck:

Taking away luck:

Items that can be used:
Add
Diamond: 12
Diamond Block: 100
Emerald: 8
Emerald Block: 80
Gold Ingot: 6
Gold Block60
Iron Ingot: 3
Iron Block: 30
Golden Apple: 40
Enchanted Golden Apple: 100
Nether Star: 100
Subtract
Rotten Flesh; -5
Spider Eye: -10
Fermented Spider Eye: -20
Poisonous Potato: -10
Puffer Fish: -20
Lucky Block Mod How to install:
Download and install Minecraft Forge.
Download the Lucky Block Mod from link below.
Go to .minecraft/mods folder. If the "mods" folder does not exist you can create one.

Windows – Open the Start menu and select Run, or press the Windows key + R. Type (without quotes) "%appdata%\.minecraft\mods" and press Enter.
OS X – Open the Go menu in Finder and select "Go to Folder". Type (without quotes) "~/Library/Application Support/minecraft/mods" and press Return.

Copy the downloaded jar (zip) file into the "mods" folder that opens.
Enjoy the mod.
Lucky Block Mod 1.14.3 Download Links:
For 1.6.4
http://dl.niceminecraft.net/download.php?file=f4e5c4cbdd801e4728498c6dff7f479f
For 1.7.2
http://dl.niceminecraft.net/download.php?file=4df7f44dac6838d6a8334d7c0b658254
For 1.7.10
http://dl.niceminecraft.net/download.php?file=d17e9e76d8e74d118769fd4241d8001a
For 1.8
http://dl.niceminecraft.net/download.php?file=3eb14c7b0f41f544df21ccd66020aaf8
For 1.8.9
http://dl.niceminecraft.net/download.php?file=ce078f09bd7f86c360db663d1451ecca
For 1.9
http://dl.niceminecraft.net/download.php?file=0da84cd9c918ce279cc76d7dbcd9739f
For 1.9.4
http://dl.niceminecraft.net/download.php?file=586e6cba63fd6f493f542f3875798cd4
For 1.10.2
http://dl.niceminecraft.net/download.php?file=0c20bd40be4b66cf1a4236cda154df92
For 1.11.2/1.11
Download from Server 1 – Download from Server 2 – Download from Server 3
For Minecraft 1.12.1/1.12
Download from Server 1 – Download from Server 2 – Download from Server 3
For Minecraft 1.12.2
Download from Server 1 – Download from Server 2 – Download from Server 3
For Minecraft 1.13.2
Download from Server 1 – Download from Server 2 – Download from Server 3
For Minecraft 1.14.3
Download from Server 1 – Download from Server 2 – Download from Server 3
Credits: Player In Distress