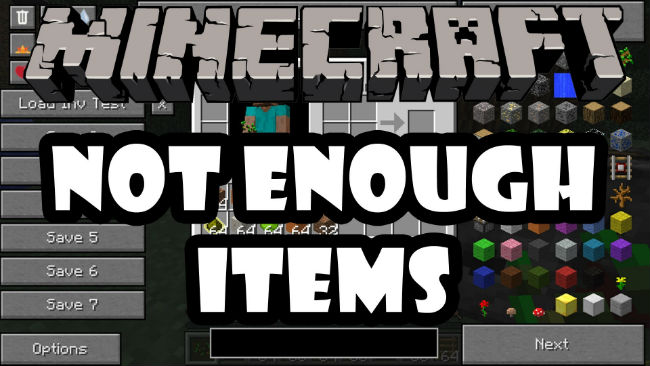 Not Enough Items Mod (NEI) is one of the most effective mod in Minecraft which gives you ability to add a large number of recipes and other unique features into your game. There is no doubt that Not enough items mod seems to be a legend mod that most of players in Minecraft already know.
Not Enough Items Mod is the successful combination of Too Many Items and Recipe Book. The advent of this mod is the same time as Craft Guide when Alexandria and a few others on the IRC suggested that I merge both Too Many Items and Recipe Book. You know that both Recipe Book and Too Many Items have their own flaws. While Recipe Book's weakness is born with such many items that players can't make it easier to search or sort the items, Recipe Book appears with too many recipes. Therefore, Not Enough Items seems to solve all that issues. Thanks to NEI you can add up to 10000 items which are from both TMI and Recipe Book. So you can easily play a lot of mods simultaneously.
We will list some additional features of NEI below so that you can see all of NEI's superiority in the Minecraft:
The mod not only lists all items existing in game, but also add items from other mods
Show you how to craft items and block
Even if you'd love to cheating, this mod can actually pretty helpful
This mod adds two features to the recipe mode function, allowing you to still search for recipes and items by name or ID.
On the whole, Not Enough Items Mod is a classic mod which is actually suitable with both the new players and adept players. That's why it is indispensable in the mod's collection.
Mod Showcase:
Not Enough Items Mod Recipes and Screenshots:
How to install:
Download and install Minecraft Forge.
Download and install CodeChickenCore.
Download the mod.
Go to %appdata%.
Go to .minecraft/mods folder.
If the 'mods' folder does not exist you can create one.
Drag and drop the downloaded jar (zip) file into it.
Enjoy the mod.
Not Enough Items Mod Download Links:
Older versions:
For 1.5.2
http://dl.niceminecraft.net/download.php?file=15426ec748eb1c566624f90f580ad53a
For 1.6.2
http://dl.niceminecraft.net/download.php?file=955c323ae33e85b98fd917d494ac28da
For 1.6.4
http://dl.niceminecraft.net/download.php?file=a1db2eadb05f20526bab7956757145fa
For Minecraft 1.7.2
Recommended Version: Download from Server 1 – Download from Server 2 –Download from Server 3

Latest Version: Download from Server 1 – Download from Server 2 – Download from Server 3
For Minecraft 1.7.10
Recommended Version: Download from Server 1 – Download from Server 2 –Download from Server 3

Latest Version: Download from Server 1 – Download from Server 2 – Download from Server 3
For Minecraft 1.8
Recommended Version: Download from Server 1 – Download from Server 2 –Download from Server 3

Latest Version: Download from Server 1 – Download from Server 2 – Download from Server 3
For Minecraft 1.9.4
Recommended Version: Download from Server 1 – Download from Server 2 – Download from Server 3

Latest Version: Download from Server 1 – Download from Server 2 – Download from Server 3
For Minecraft 1.10.2
Recommended Version: Download from Server 1 – Download from Server 2 – Download from Server 3

Latest Version: Download from Server 1 – Download from Server 2 – Download from Server 3
For Minecraft 1.11.2
Recommended Version: Download from Server 1 – Download from Server 2 – Download from Server 3
For Minecraft 1.12.2, 1.12.1, 1.12
Recommended Version: Download from Server 1 – Download from Server 2 – Download from Server 3
Credits: chicken_bones