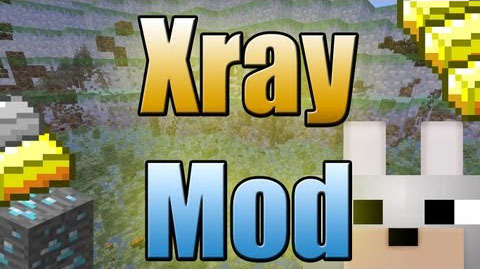 XRay Mod 1.12.2 is an extremely unique mod that's been designed to help players find ores more and more easier.
By making the textures of those blocks disappear from your view, this mod allows you to figure out transparently coal, iron, gold, diamonds and valuable resources buried in caves, underground or abandoned mineshafts.
As a result, you can find exactly what you want. Also, it includes fullbright, cavefinder, configurable coordinates, and much more.
So if you want to play in Hardmode or still survive in Survival mode without using Cheats, XRay Mod is the powerful tools for you to figure out a large number of resources.
Features:
XRay mode: Default keybinding: X
In the user interface, you can choose which blocks get rendered, and which don't.
You can also create additional XRay profiles, and then assign a keybinding to them in-game if you want further customizability.
Cavefinder: Default keybinding: C
Works just like XRay mode.
Cavefinder does not automatically turn on fullbright like XRay does. Therefore, you can use it to find torches or other light sources in caves.

Fullbright: Default keybinding: L
My fullbright is a little bit better than others…
Setting gamma to 1000% while under water


XRay Fullbright while under water


Configurable coordinates display
For instructions on how to configure them, see the configuration page.
Here is an example of what you could do:

Survival fly and fly speed
By default, there is no keybinding set for fly. To enable fly you must set a keybinding for it.
Pressing the fly keybinding enables survival fly. This allows you to use double jump to start flying. It is very similar to being in creative mode.
Double tapping the fly keybinding makes you start flying immediately.
Easy to install and compatible with any other mod(s)
User interface to make configuration easier
Configuration:
How to install:
Installer:
The mod comes with an installer. Simply double click on the downloaded file, and select a profile to install it into. You can select a vanilla profile, a modded profile, a Forge profile, or even a LiteLoader profile! It will also detect Technic mod packs and ATLauncher instances.
Note: if you double click on the installer, and it opens in WinRAR (or similar program), you will need to right click on the downloaded file, and go to Open with → Java(TM) Platform SE binary. If that option is not available you may need to install or reinstall Java.
How to Install:
Download and install Minecraft Forge.
Download the XRay Mod from link below.
Go to .minecraft/mods folder. If the "mods" folder does not exist you can create one.

Windows – Open the Start menu and select Run, or press the Windows key + R. Type (without quotes) "%appdata%\.minecraft\mods" and press Enter.
OS X – Open the Go menu in Finder and select "Go to Folder". Type (without quotes) "~/Library/Application Support/minecraft/mods" and press Return.

Copy the downloaded jar (zip) file into the "mods" folder that opens.
Enjoy the mod.
XRay (Fly) Mod 1.12.2 Download Links:
Older files:
For all versions v19 (Supports from Minecraft 1.6.4 to Minecraft 1.9.2)
http://dl.niceminecraft.net/download.php?file=67ab2af16373a35828ff7bc9cee01f8e
For all versions v20 (Supports from Minecraft 1.6.4 to Minecraft 1.9.4)
http://dl.niceminecraft.net/download.php?file=80e880cbdb3b67ecc85a0c6fff2cb11a
For all versions v24 (Supports from Minecraft 1.6.4 to Minecraft 1.10)
http://dl.niceminecraft.net/download.php?file=808597b95344a9cdded90b4a213b55d6
For all versions v31 (Supports everything from Minecraft 1.5.2 to Minecraft 1.10.2)
http://dl.niceminecraft.net/download.php?file=3f7784fe12bd18c4db5eaafba60828db
For all versions v43 (Supports everything from Minecraft 1.6.4 to Minecraft 1.10.2)
Download from Server 1 – Download from Server 2 – Download from Server 3
For all versions v46 (Supports everything from Minecraft 1.6.4 to Minecraft 1.11.0)
Download from Server 1 – Download from Server 2 – Download from Server 3
For all versions v47 (Supports everything from Minecraft 1.6.4 to Minecraft 1.11)
Download from Server 1 – Download from Server 2 – Download from Server 3
For Minecraft 1.11.2 v48 (Beta release – May not work)
Download from Server 1 – Download from Server 2 – Download from Server 3
For all versions v56 (Supports everything from Minecraft 1.6.4 to Minecraft 1.12)
Download from Server 1 – Download from Server 2 – Download from Server 3
Credits: AmbientOcclusion