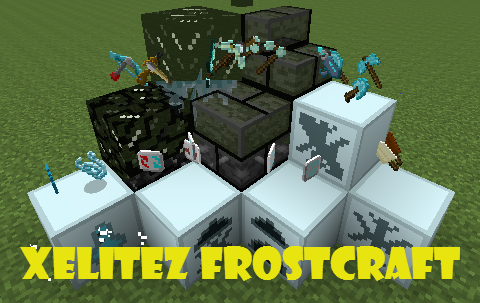 XEliteZ FrostCraft Mod 1.12.2
XEliteZ FrostCraft Mod implements multiple features related to a winter theme. These features are mobs, blocks, items, weapons and machines. It is highly recommended that you should install the  XEliteZ Mod Update Utility to run the mod well.
This mod is open source and you can view the source code and the changelog here.
Note: until the wiki has been completed it's recommended to install Not Enough Items for information about recipes. I implemented extended NEI support for this mod so all the freezer and frost enforcer recipes should show up as well in NEI (freezer/enforcer plug-ins disabled in 1.7.2 since NEI isn't updated yet).
Feature list:
mobs
blocks
items
weapons and tools
machines
Energy System(still requires some debugging and additions where needed but for now it works fine)
Not Enough Items Recipe compatibility (currently unavailable since NEI is not yet released for 1.7.x)
Screenshots:
Castle (currently just a tower that spawn randomly in cold biomes. There can only be one in a 500 block radius):

A new boss, Frost Wing(can be summoned by using a diamond on his statue):

A bunch of machines:

Enforced tools:

The new 3D crossbow model:

Download XEliteZ FrostCraft Mod 1.12.2
For 1.7.10
http://dl.niceminecraft.net/download.php?file=68b2daa8be18f2372b87073e2546e1d4
For 1.7.2
http://dl.niceminecraft.net/download.php?file=f1c134426fb92a382aa20170c854114f
For 1.6.4
http://dl.niceminecraft.net/download.php?file=b6b9d11a3aa0f59bf15d19d53e4037a4
Author: XEZFrosted