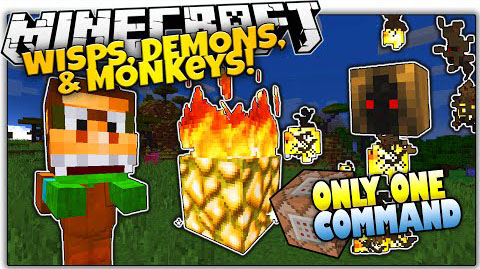 Features:
Demons
Only spawn in the nether. They are very rare.
Demons will attack with melee, TNT, arrows, and zombie pigmen.
Demons can anger zombie pigmen.
Monkey
Spawn commonly in the jungle (mostly night), uncommonly in the forest, extremely rarely anywhere else.
They are mostly aggressive.
They will climb trees to reach the player or to get away from the player.
They can also hide in the trees.
They have a 50% chance to drop leather.
Wisps
Spawns uncommonly underground, uncommonly in the mega taiga, and extremely rarely anywhere else.
They fly around passively and will not follow the player.
They attack the player with lightning strikes, and poison if you get too close.
They can only be killed by absorbing their power with a Mage's wand. (Hold a mage's wand nearby to do this)
Command Block Showcase:
How to install:
The first, give yourself a command block, type :
/give @p minecraft:command_block
Once you have a command block, right click it to open it's GUI.
Now, you must copy the command from Wisps/Demons/Monkey Command Block download link below.
Next, go back to your minecraft world, and paste the command you just copied into the command block. There are a few different keys that may be used to do this, depending on your keyboard. The most common ones are 'CTRL + V', 'COMMAND + V', or 'STRG + V'
Finally, press Done to exit the GUI, and run the command block with a Redstone block.
Command:
For 1.8
Wisps
http://dl.niceminecraft.net/download.php?file=9f76cb7778676efcf6de0fa44d3881f1
Demons
http://dl.niceminecraft.net/download.php?file=60f84af96c97ddfa1bb135270e730319
Monkey
http://dl.niceminecraft.net/download.php?file=84eb2d33c228bbc8f77fdd8a3ad0938c
Credits: Jragon14