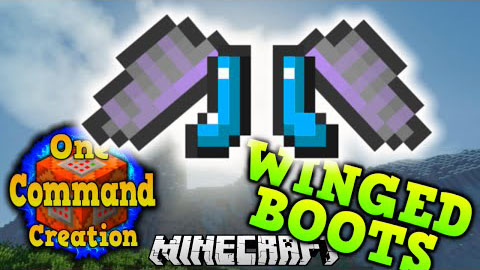 Winged Boots Command Block allows you to craft Winged Boots, which act just like an elytra. But now you can wear a chestplate and glide at the same time, and before this you couldn't. Whenever you're in combat, you'll never need to worry again about switching between armor and wings.
Command Block Trailer:
How to install:
The first, give yourself a command block, type :


/give @p minecraft:command_block

Once you have a command block, right click it to open it's GUI.
Now, you must copy the command from Winged Boots Command Block download link below.
Next, go back to your minecraft world, and paste the command you just copied into the command block. There are a few different keys that may be used to do this, depending on your keyboard. The most common ones are 'CTRL + V', 'COMMAND + V', or 'STRG + V'
Finally, press Done to exit the GUI, and run the command block with a Redstone block.
Winged Boots Command:
For 1.9.x
http://dl.niceminecraft.net/download.php?file=3fa2bcf76d1322f64d6b0d6cbbe391cc
Credits: Wandeperc