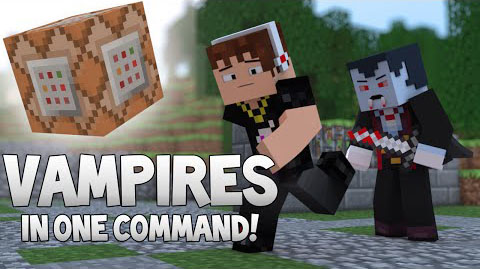 Features:
Naturally spawning vampires in caves.
Vampires can change to and from bats.
Vampires can only be killed in bat form (or by hitting it with a Smite V diamond sword)
Vampires can drop a tear which will give a disease giving jump boost, speed, resistance, and extreme hunger.
The disease can be cured by naming a bone "Undead Last Rite" and placing it in your inventory.
Command Block Showcase:
How to install:
The first, give yourself a command block, type :
/give @p minecraft:command_block
Once you have a command block, right click it to open it's GUI.
Now, you must copy the command from Vampires Command Block download link below.
Next, go back to your minecraft world, and paste the command you just copied into the command block. There are a few different keys that may be used to do this, depending on your keyboard. The most common ones are 'CTRL + V', 'COMMAND + V', or 'STRG + V'
Finally, press Done to exit the GUI, and run the command block with a Redstone block.
Command:
For 1.8
http://dl.niceminecraft.net/download.php?file=bebcd051086101bfda064d874e6c6b9e
Credits: Jragon14