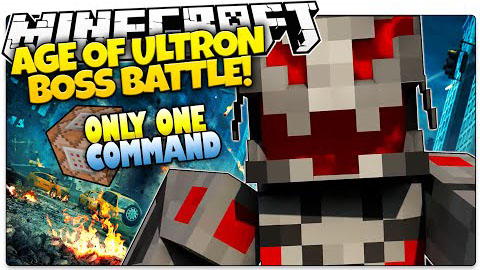 Age of Ultron Boss Fight, using Only One Command Block! Welcome to the most epic minecraft boss fights you'll ever come across! Iron Man VS Ultron? No way, it's all about you baby! This is an Ultron Boss Battle that you can add to your minecraft world using the simplest of minecraft commands! Well, it's only simple because all it takes is one command block! Battle Ultron and Save the city!
Command Block Showcase:
How to install:
The first, give yourself a command block, type :
/give @p minecraft:command_block
Once you have a command block, right click it to open it's GUI.
Now, you must copy the command from Ultron Boss Battle Command Block download link below.
Next, go back to your minecraft world, and paste the command you just copied into the command block. There are a few different keys that may be used to do this, depending on your keyboard. The most common ones are 'CTRL + V', 'COMMAND + V', or 'STRG + V'
Finally, press Done to exit the GUI, and run the command block with a Redstone block.
Command:
For 1.8
http://dl.niceminecraft.net/download.php?file=f678fa67a06c321e28915cb9ce9424df
Credits: The Minecraft Avatar