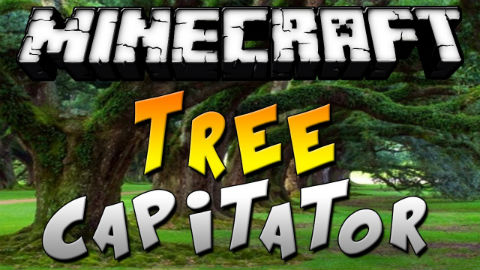 TreeCapitator Mod 1.12.2 is an interesting mod with with powerful tools to help you in gathering wood. When using this mod you will not lose much time in collecting wood like before, beacause you will have an axe and a will you can change all of that torture once you download TreeCapitator mod. Tree Capitator mod adds one simple element to the game: axes cut down all wood touching the wood block you cut down. You will have lots of advantages when using this mod, especially:
You see one of those twenty block high monstrosities, you won't think of how much work it'll be, you'll think of how much wood you'll get
You can also mess around with the config file to change things like what's considered a tree, how many leaves the trees need to be considered a tree, what an ax is, and whether or not you need an ax
You can make sure that you'll be able to use all of your ax items, and cut down all of your trees with mods that add axes into minecraft like IndustrialCraft2, or mods that add in trees like Forestry
Mod Features:
Forge version can break any log out of the box (see .minecraft/config/TreeCapitator.cfg for details)
Sneak while chopping to break logs normally (configurable)
Configurable list of tool IDs to determine what an ?axe? is
Optional item damage based on number of logs broken (defaults to enabled)
Optional increasing item damage per block broken (off by default)
Smart tree-detection (configurable)
Option to destroy leaves (enabled by default)
Option to shear leaves (with a shear-type item in hotbar)
Option to shear vines (with a shear-type item in hotbar)
Disable drops in creative
Disable tool requirement
Mod version checking (never miss a new feature)
Screenshots: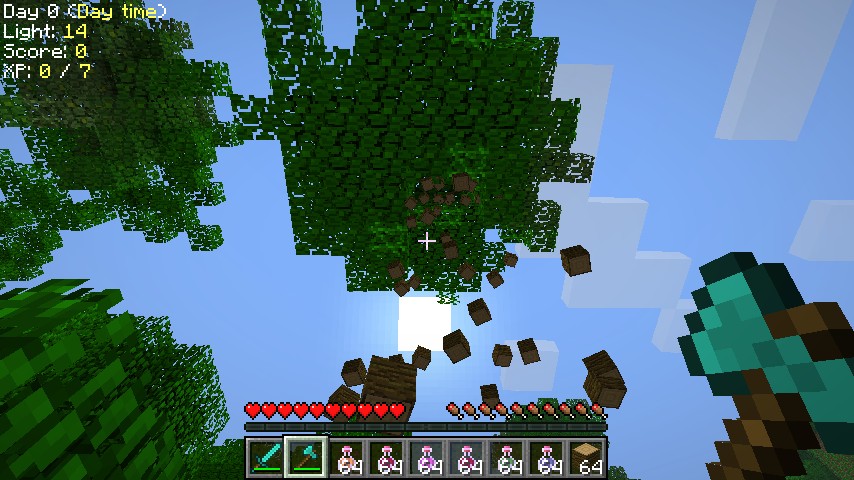 Mod Showcase:
There is a conflict with Magic Launcher that makes it think there is a duplicate mod.  Disable TreeCapitator in Magic Launcher and drop the mod in the coremods folder.
Notes: Delete ALL previous versions of ANY TreeCapitator mods from your mods folder before using the new CoreMod version!  Put it in the coremods folder!
How to install:
Download and install Minecraft Forge.
Download and install BspkrsCore.
Download the mod.
Go to %appdata%.
Go to .minecraft/mods folder.
If the ?mods? folder does not exist you can create one.
Drag and drop the downloaded jar (zip) file into it.
Enjoy the mod.
Tree Capitator Mod 1.12.2 Download Links:
Older versions:
For 1.5.2
Forge : http://dl.niceminecraft.net/download.php?file=c1157f03db39b321c78b6c6448ce81a4

Mod Loader : http://dl.niceminecraft.net/download.php?file=bb23fc0f661ca37d55ab7dca5584d027
For 1.6.2
Forge : http://dl.niceminecraft.net/download.php?file=fc39d1aa6e473a9cdb2d0d5b4e0bd1a1

Mod Loader : http://dl.niceminecraft.net/download.php?file=e47c1b6ea6d9c5213c8d5b4aed209e22
For 1.6.4
Forge : http://dl.niceminecraft.net/download.php?file=a3d2ee8baba9ffb8d4a39101833bf90d

Mod Loader : http://dl.niceminecraft.net/download.php?file=a9b72209aa76f4f68a7be286a796b8d3
For 1.7.2
http://dl.niceminecraft.net/download.php?file=92e48ca765b76389e5ef8fc579ad00b0
For 1.7.10
http://dl.niceminecraft.net/download.php?file=e7bdc468f650592928e029e281c90004
For 1.8
http://dl.niceminecraft.net/download.php?file=7495c758ea9d27dbff502cccf440686a
For Minecraft 1.8.9
For Minecraft 1.9.4
For Minecraft 1.10.2
For Minecraft 1.11.2
For Minecraft 1.12
For Minecraft 1.12.2, 1.12.1, 1.12
Credits: bspkrs