The Trash Slot Mod is an effective mod that enables players to delete the unwanted items. When playing Minecraft, you might experience with an issue known as throwing your items everywhere. More and more items accumulating will slow down your systems, because it still uses memory and your computer will be difficult to keep track of this trash. That's why this mod was born to solve that issue.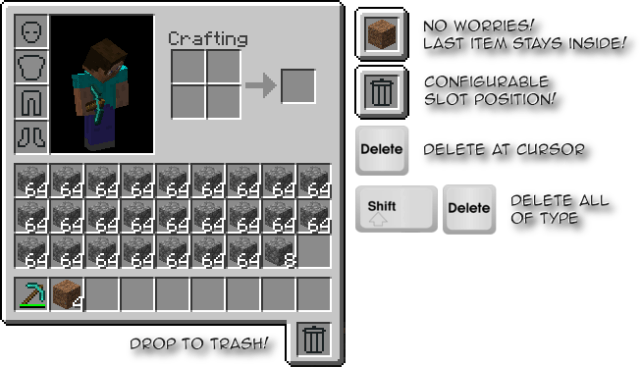 Now, players can get rid of wanted entities without any complex commands or haul lava back to their homes. Of course, you might also place your lava block to serve as your disposal.
You'll see Trash Slot at the bottom of your inventory window, in a special layer just below. You might alter the location of the trash anywhere in the inventory without dragging items in the slot. Just simply hover your mouse on the top of item you want to delete, then press DELETE in your keyboard to remove trash successfully. In case, you wish to delete all content of your inventory, let's hold SHIFT button while pressing Delete.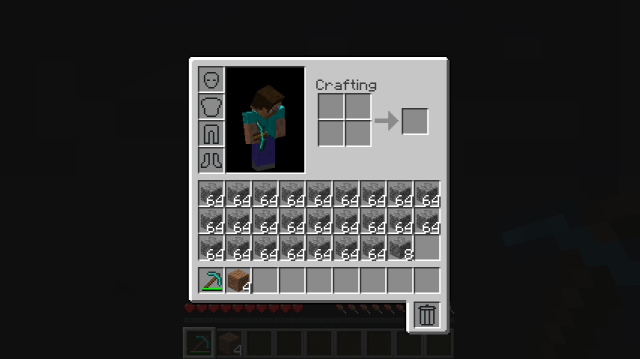 One important problem you should keep in mind is the fact that the accumulation of the trash might result from your wrong attack on playing game. That's why in the first place, you shouldn't spend too much tie digging and collecting unwanted items to avoid that problem.
TrashSlot Mod for Minecraft 1.8 and 1.7.10 Changelogs
How to install Trash Slot Mod?
Download the latest version of the Minecraft Forge installer.
Run the installer and select client/server.
Start Minecraft using the Forge profile.
Exit the game.
Download Vanilla Plus below and place it in the mods folder.
Re-launch Minecraft and have fun!
Download Links for Trash Slot Mod
for Minecraft 1.8
for Minecraft 1.7.10
Credit: Blay09 – Original Thread on Curse