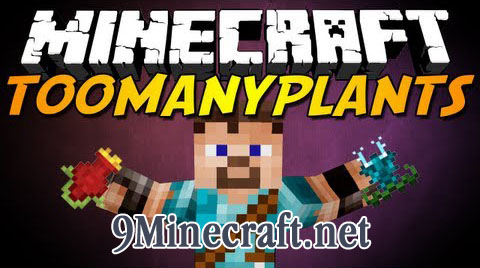 TooManyPlants is a mod for anyone who wishes that Minecraft had more in the way of naturally occurring botany and has somehow missed all of the other mods that already do that. As of version 1.5.0, it adds a total of 15 new generating plants, as well as a reasonable number of new items to craft with them.
Screenshots:
Recipes:
Installation:
1. Install Minecraft Forge.
2. Place TooManyPlants.jar in the mods folder in .minecraft.
This is for both client and server!
Changelogs:
Updated for 1.4.6!
The mod now reports (anonymously) how many unique IPs use it. If you want to disable it, add ?B:snoop=false' to the misc section of your config before updating.
Added autocrafting shears!
http://www.dl.9minecraft.net/index.php?act=dl&id=1369244297

http://www.dl2.9minecraft.net/index.php?act=dl&id=1369243943
Credits: benzrf