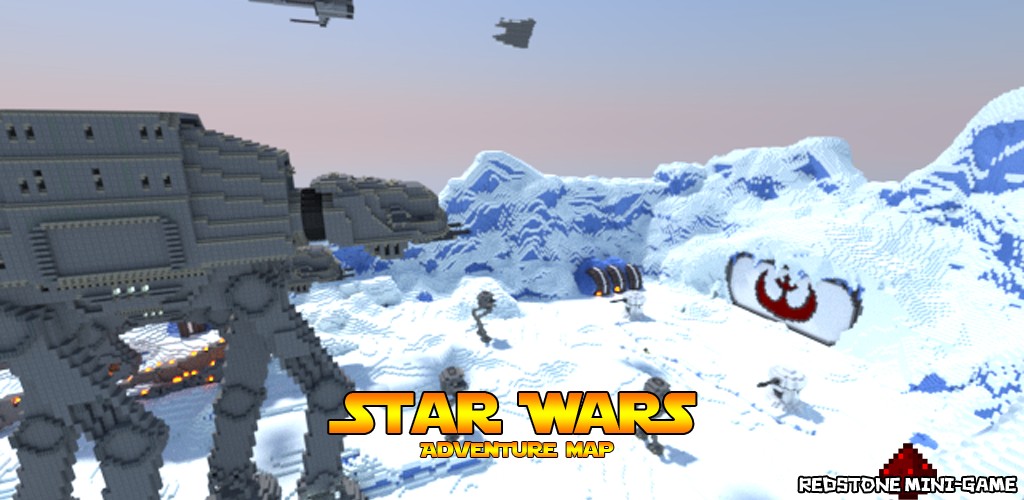 The Star Wars Adventure Map is one of the most interesting custom Minecraft maps that lets players try something new in Minecraft. This map revolves around the famous battle of Hoth, the infamous ice planet; so if you are a big fan of Star War, this map promises to deliver so much fun for you.
Star Wars Adventure Map Video
There is a class system, you can choose between the Jedi and Trooper.
Please make sure to setup the server proprieties as advertised to prevent bugs or unbalances.
Quests
1- Save the hostages.
2- Repair the generator and start both canons.
3- Disable the AT-AT.
Side Quests
1- Obtain the Diamond Lightsaber in the Temple.
2- Obtain the Red Lightsaber from the wrecked ship.
3- Find the hidden disc to trade for a powerful gun at the merchant.
2 players minimum are required for the finale. Good luck!
IMPORTANT SERVER SETTINGS
enable-command-block=true
gamemode=0
spawn-monsters=true
view-distance=15
spawn-npcs=true
pvp=false
difficulty=1
Texture Pack: Star Wars Texture Pack
Download Star Wars Adventure Map for Minecraft:
http://www.mediafire.com/download.php?sy87ozqqohfn6y8

http://www.dl2.9minecraft.net/index.php?act=dl&id=1353336760
Deluxe Edition
http://www.dl2.9minecraft.net/index.php?act=dl&id=1353337033
Credits: Hypixel