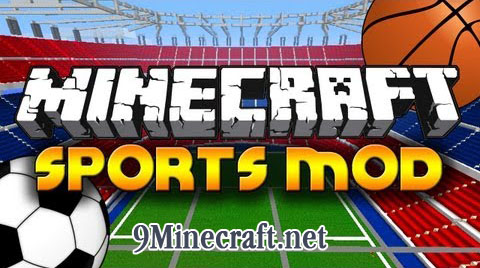 The name Sports Mod is enough to represent the mod's objective. Sports Mod will introduce balls to play Basketball, Football, Tennis and Baseball. If you are a big fan of these famous sports, this mod is perfect for you. Enjoy it!
Video and Recipes:
BASKETBALL
FOOTBALL
TENNIS
BASEBALL
Settings:
Options->Sports mod Options-> to set ball render, IDs, keys sensitivity.
Options->controls? to set custom keys(Cross, Circle, Triangle, Square).
Global Gameplay:
The power of shot and passes can be measured by pressing more or less time the keys.
More you look up and more the balls will go up
The balls reacts differently depending of the soil.

Sand: low bound, slow moves
Grass: medium bound, medium moves
Cobblestone: bound to a random direction
Remaining solid blocks: hight bound, fast moves

Key Square + collide with the balls to pick it up.
Key triangle to sprint.
Installation:
Note: Player API (Render) pack * only this files
jc.class
ServerPlayerBase.class
ServerPlayerBaseSorter.class
ServerPlayerBaseSorting.class

Older versions:
For 1.5.2
For 1.6.2
For 1.7.10
Credits: nico910