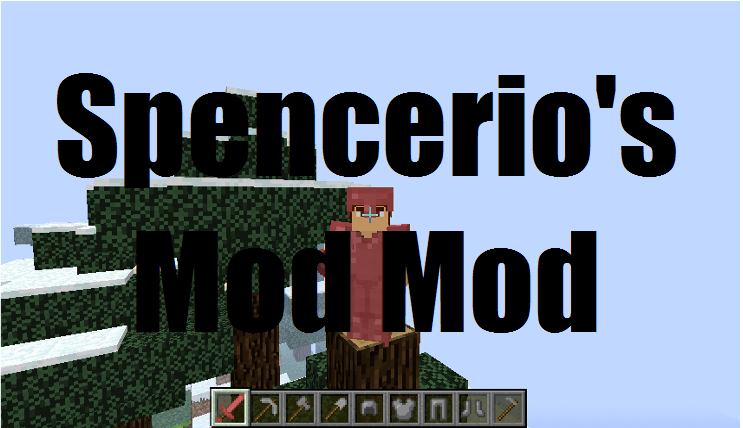 The point of Spencerio's Mod Mod is to add in some really cool stuff which sounds challenging to players, but whose rewards are awesome.
Because the main purpose of the mod is to make Minecraft more rewarding again, you can hope to get many precious rewards such as Customizable and Boss Spawners, whose recipes are extraordinarily expensive, but allow you to spawn any mob in the game.
Currently, this mod introduces many interesting things listed below:
Loads of ores, tools, armor, and ingots/drops
Craftable spawn eggs and craftable music discs
Many new types of dungeon, a Help Block and Help Block GUI, few flowers and so on
Perhaps the best stuff added is the Customizable Spawner and Boss Spawner. Through them, you can spawn Giants from long-lost Minecraft with the Customizable Spawner; and spawn the bosses using the Boss Spawner
Compatible mods:
Too Much TNT (If later there's ID conflicts, just use Too Much TNT's Config file in the config folder in .minecraft to change Too Much TNT's IDs)
Lucky Block
Risugami's Modloader (ONLY 1.6.4)
Weather & Tornadoes Mod
ConfigMod
CoroAI
ExtendedRenderer
CodeChickenCore (Obviously, otherwise NEI wouldn't work!)
NEI (Not Enough Items)
FpsPlus
OptiLeaves
Minions Mod
LumberJack
Custom Ore Generation Revived
Telepads
CraftGuide
myBiomes
Install Spencerio's Mod Mod 1.7.2/1.6.4
Download the recommended forge installer at: http://files.minecraftforge.net/
Open the forge installer with Java TM SE Platform Binary. Make sure you open it with Java. (if your icon for the .jar file is the java logo, double-click it.)
Download the mod
Go to start menu, then type %appdata%, click on Roaming, go into .minecraft, and open your mods folder (if you don't have a mods folder in .minecraft, make one, and be sure that the folder ?mods? doesn't have ANY caps in its name).
Put the mod's .zip or .jar file into the mods folder.
Run the new launcher, select the Forge profile, then play.
ENJOY THE GAME!!!
Download Spencerio's Mod Mod 1.7.2/1.6.4
For 1.7.2
http://dl.niceminecraft.net/download.php?file=a3770b190ce842689c421e673bc74af8
For 1.6.4
http://dl.niceminecraft.net/download.php?file=67224df81265a9ec8e647cbbc35303cc
Author: Spencerio