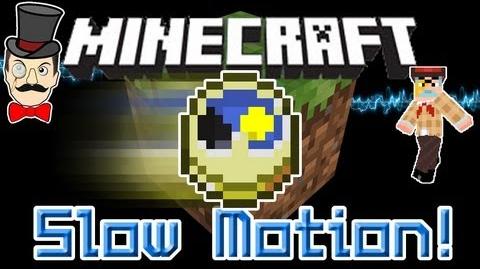 Like the name implies, Slow-Motion Mod is an insanely useful mod that enables players to slow down the game time to half. It sounds like you can control the time. Now everything will be slow down, and so will you. This effect gives you one prominent advantage is the fact that you can still look around and attack at normal speed. It's quite effective when you are in a combat. Don't hesitate to install the mod to get more useful things.
So, here's everything: 

Features
Slow down time, and speed it back up at the press of a key.
Client only
Acts as a combat advantage
Installation
This mod is client side only! If you install it on a server, it will just delete itself! 
Click the Downloads link
Go to the page and choose either the Installer or the Raw file
If you use the Installer, start the jar file and click Install
If you use the raw file, drop it in your mods folder
For 1.6.4
Installer

http://dl.mod-minecraft.net/download.php?file=2bad70084ee9f7d96a9bc40bdde2faf9

Rau File
http://dl.mod-minecraft.net/download.php?file=fb7fb3a508dc2cb53b90f7e4c347cadf
Author: RomejanicDev