This is a simple plugin that broadcasts a message to chat when someone enters a bed. It will also display the amount of people in bed out of the amount of players online. This plugin keeps the realism of sleep on your server and reminds everyone that they can sleep to skip night. There are also numerous configurable options in the config, i.e. Changing the percentage of players needed in bed to skip night, Changing the colours of the messages, and what the messages say.
So come try sleepnotifier now!
Change Log
ADDED ? Added exempt permission, 'sleep.no' ? (V1.8)
UPDATE ? To [1.7.2] ? (V1.8)
UPDATE ? To [CB 1.2.5-R2.0] ? (V1.7)
ADDED ? Fixed Error With Version 1.5, When Skipping Night. ? (V1.6)
REVAMP ? Remade Plugin With Better Coding. Added /bed Command. Added Percentages. Can Change Percentage Of Sleepers Needed to Skip Night ? (V1.5)
UPDATE ? To Bukkit [CB 1.2.5 R1.2]. ? (V1.5)
ADDED ? Custom Configurable Broadcast Messages In The Config File. ? (V1.4)
UPDATE ? To Bukkit Recommend [1.6] ? (V1.3)
ADDED ? Set Color Codes Of Messages In The Config File. ? (V1.2)
ADDED ? Message when player leaves the bed. ? (V1.1)
RELEASE -Initial Release Of SleepNotifier. ? (V1.0)
This image shows the default look of the messages, you can change this in the config.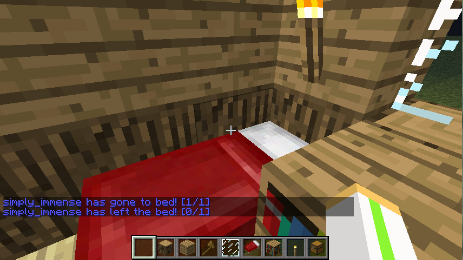 As you can see it will appear to everyone in chat once someone enters and leaves a bed on the server.
When typing '/bed' the player will be sent how many people are in bed out of the amount of people online. It will also tell you a percentage.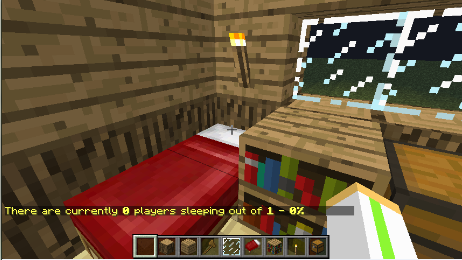 This Plugin is very simple and I will be updating it with more features in the future. So Check Back Soon!
To Do List
Add More Commands.
Add New Special Features
Things Completed
Permission support, To Make Certain Players Not Count When Sleeping.
Config files, To Set Color Of The Text
Updated to Bukkit [RB 1.6]
Custom Configurable Broadcast Message
Leave Bed Message
Updated To Bukkit [CB 1.2.5 R1.2]
Config To Change Percentage Of Sleepers To Skip Night.
Command To Check Amount Of Players Sleeping. By Typing /bed.
Thanks for checking out SleepNotifier, if you have any questions, Please ask!
SleepNotifier Plugin 1.7.2 Download Links
http://www.dl2.9minecraft.net/index.php?act=dl&id=1388991305

http://www.dl5.9minecraft.net/index.php?act=dl&id=1389016796

Credits: simplyimmense, jonneystechcheck