Custom GUIs for Minecraft!
Documentation Updates Completed on 12/16/2013
---
Have you wanted to create beautiful in-game GUIs but have been stuck because the plugins out there require Spout or do not fit your needs. Well, Simple GUI Creator is what you are probably looking for.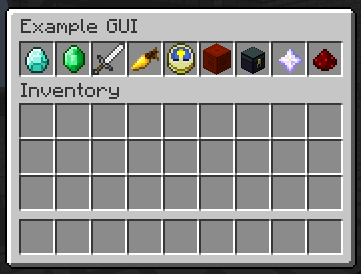 ---
Simple GUI Creator offers server admins unlimited uses for an in-game GUI without the need of a client side mod.It does this by utilizing the inventory.
---
You can create a GUI for your staff where they click an item in the GUI and it runs a command, like reloading the server, changing the time and so much more.
You can make a Teleport GUI for your players to have them easily getting around without them having to learn all the warp names.
The possibilities are endless
---
| Command | Permission Node | Description | Default |
| --- | --- | --- | --- |
| gui | gui.use | Ability to use the /gui command | true |
| guireload | gui.reload | Reload the config.yml | op |
| gui [gui_name] | gui.open.gui_name | So that you can restrict access to certain GUIs | specified in gui config |
---
Currently Supports
Supports up to 64 slots in the GUI
Items can have Lore and a custom name
When you click on an item you run a command, open another GUI, send a player to a server, etc. If you can think of it then its probably already there
Per-GUI permissions
---
Stats/Metrics

---
SimpleGUI Plugin 1.7.4 Download Links
http://www.dl2.9minecraft.net/index.php?act=dl&id=1387336630

http://www.dl5.9minecraft.net/index.php?act=dl&id=1387362101

Credits: Goblom