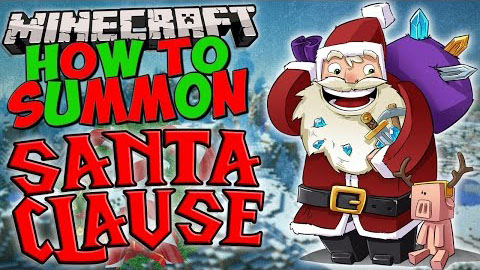 How to summon Santa Claus in Minecraft. After you spawn in Santa Claus he will test you to see if you have been NAUGHTY or NICE. Santa is quite difficult to kill to be prepared before you spawn him in.
Command Block Showcases:
How to install:
The first, give yourself a command block, type :
/give @p minecraft:command_block
Once you have a command block, right click it to open it's GUI.
Now, you must copy the command from Santa Claus Boss Fight Command Block download link below.
Next, go back to your minecraft world, and paste the command you just copied into the command block. There are a few different keys that may be used to do this, depending on your keyboard. The most common ones are 'CTRL + V', 'COMMAND + V', or 'STRG + V'
Finally, press Done to exit the GUI, and run the command block with a Redstone block.
Command:
For 1.8
http://dl.niceminecraft.net/download.php?file=ee74698a5e99287db86dfa37d4929d2c
Credits: IJAMinecraft