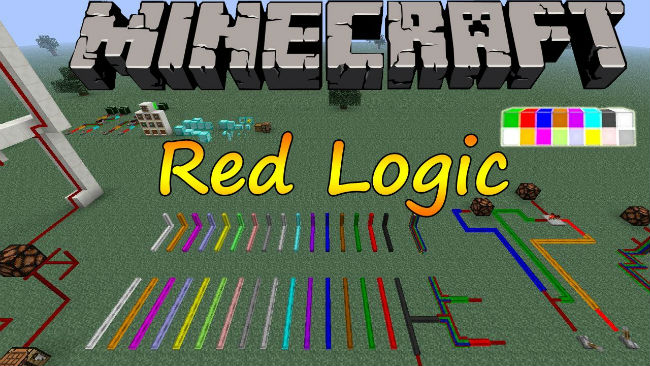 RedLogic is a mod that works as a replacement for the Wiring, Logic, Control and Lighting parts of RedPower. Besides these things, this mod also comes with some other features.
Currently, the red alloy wire and logic gates are implemented, everything will be finished in a short time.
Screenshots:
Recipes:
Wire recipes
Gate recipes
Lamp recipes
Button/plate recipes
Integrated circuit-related recipes
Other recipes
How to make integrated circuits
How to install:

Download and install Minecraft Forge
Download and install Immibis Core
Download RedLogic Mod
Just drop RedLogic Mod jar file into .minecraft.jar
Make sure delete META_INF
Enjoy
Immibis's Microblocks is required unintentionally. Microblocks work on wires and gates (and do stop things connecting). Note that Immibis's Microblocks is a coremod and Immibis Core is not, despite the name.
RedLogic Mod 1.11.2/1.10.2 Download Links:
For 1.5.2
http://www.dl3.9minecraft.net/index.php?act=dl&id=1371474888

http://www.dl4.9minecraft.net/index.php?act=dl&id=1371474605

http://www.dl5.9minecraft.net/index.php?act=dl&id=1371500263
For 1.6.2
http://www.dl.9minecraft.net/index.php?act=dl&id=1373644697

http://www.dl4.9minecraft.net/index.php?act=dl&id=1373619525
For 1.6.4
http://www.dl4.9minecraft.net/index.php?act=dl&id=1385126002

http://www.dl5.9minecraft.net/index.php?act=dl&id=1385152115
For 1.7.2
http://www.dl4.9minecraft.net/index.php?act=dl&id=1403747694

http://www.dl2.9minecraft.net/index.php?act=dl&id=1403748766
For 1.7.10
http://www.dl4.9minecraft.net/index.php?act=dl&id=1404096338

http://www.dl2.9minecraft.net/index.php?act=dl&id=1404097419
For 1.10.2
RedLogic Mod for Minecraft 1.10.2 (Not updated yet)
For 1.11.2
RedLogic Mod for Minecraft 1.11.2 (Not updated yet)
Credits: immibis