Ranks
Count your blocks and get ranks!
Added a global scoreboard for every player:
http://ranks.marv-productions.de/
please give feedback on how it works (performance etc.)
A note to Online-tracking!
You all noticed, that i shifted the score of your players to my website?
To enable this, i have to make a connection to my Server, so i can sync your Server with it! I have no access to any data except the things collected by my plugin! To prevent fraud, i will silently track your Servers IP-Address, so i can remove servers that are cheating! I will not make this Address public to anyone and I will discuss this matter with everyone, who is concerned about his privacy!
This change is the first one in a series of bigger changes! I stated, that i want this plugin to be more a stats/ranks-plugin than simple counting of blocks. Your rank is now server-independent! And i will track more things like, kills, deaths, distance walked, exp collected, objects crafted, drops collected etc. I think, there are many things worth counted. And server-owners can give People rewards/permissions based on how high their rank is.
Overview:
For every Block you break, you will get some Exp.
you can view your broken Blocks with "/ranks".
All data is stored online on my website and gets synced with your server!
Edit the text displayed in the locale.dat
Edit how many exp you get per block in blocks.dat (will be defined by my website!)
Edit how many Exp you need to place/break blocks (coming soon again!)
For adding a sign with your name:

Line 0:[Ranks]
Line 1:yourname
Line 2:Will be Block-Break
Line 3:Will be Block-Place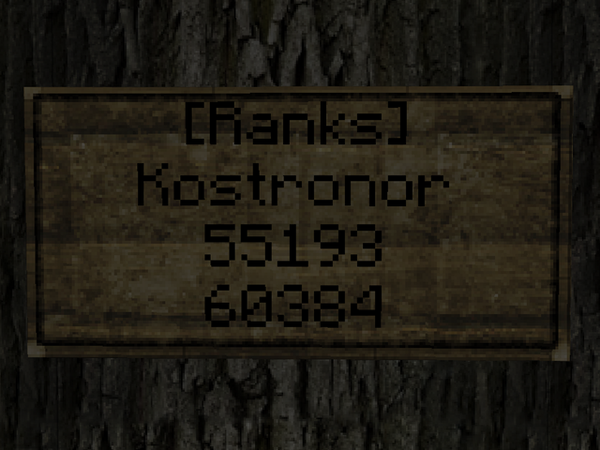 Features:
Counts broken Blocks/placed Blocks.
Get different Exp. per Block. (will be defined by my website!)
Tells this to you
Will auto-check on startup for new updates!
Blocks now need some exp till they can be broken (coming soon again!)
You can place signs who will display your Rank to all Players passing by
ToDo:
Rise custom levels (and get something from it)
Add new things to track
Overhaul Website to get detailed statistics!
KnownIssues:
none of today
Rank Plugin 1.7.2 Download Links
http://www.dl2.9minecraft.net/index.php?act=dl&id=1390185455

http://www.dl5.9minecraft.net/index.php?act=dl&id=1390211759

Credits: Kostronor