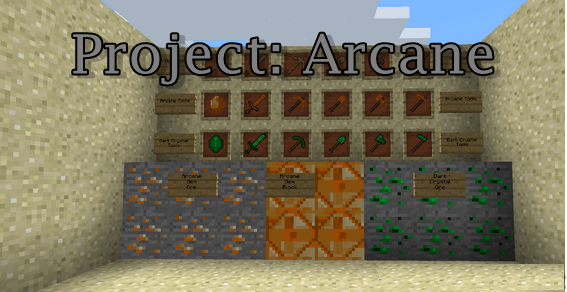 Project: Arcane Mod is a great mod that implements new things into Minecraft such as new items, tools, armor, blocks, crafting recipes, and more. Because this mod is in the development stages, that's why there will be many new features added in the future to meet player's needs.
Mod Details
Forge Version: 10.12.1.1047+
Minecraft Version: 1.7.2
Current Mod Version: 1.4-dev
Mod Packs
Since Project: Arcane is open source mod released under the LGPL v3, you can include it in your mod pack. 

Known Bugs
1. The chest will delete items when you exit your world. (Working to fix this ASAP)
2. Furnace doesn't stack items after smelting.
Screenshots and Recipes:


Arcane Armor and Tools
– Anything with arcane is usually going to be the best!




Dark Crystal Armor and Tools
– Second best armor and tool set 




Bone Armor
– 3rd best armor




Dirty Tools and Items
– Meant for very early game, have low damage.




Blocks and Items
– I will add more uses for these items in the near future but for now they may be useful




Other Recipes
– Just some basic recipes, more recipes will go here


Installation
Download and install the required version of Minecraft Forge
Add 'Project: Arcane' to your mods folder
Start Minecraft and Enjoy!
Download Project: Arcane Mod 1.7.2
For 1.7.2
http://dl.niceminecraft.net/download.php?file=186e3674635cf249faf59ec7d04885fa
Author: SavageMods