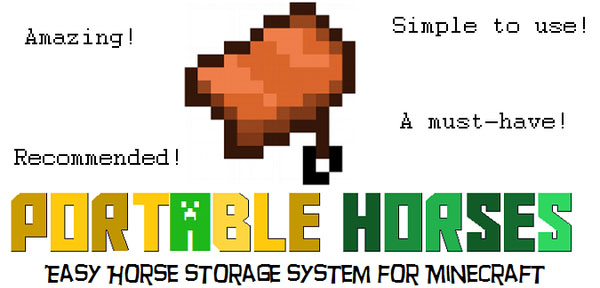 Portable Horses allows for players to store their steeds in their inventory. By removing the saddle from a horse or donkey, the animal will vanish, safely stored inside the saddle itself. by clicking the saddle on the ground again, the horse will respawn ready to ride exactly as you left it.
You could even store a donkey in a saddle in a donkey in a saddle (donkey-ception?)
Features
Pickup/Spawn your horse anytime / anywhere just by saddling it.
Option to store (or drop) Horses armor, and donkey's inventory.
Horse details are displayed on the saddle's lore for easy identification.
NO DATABASE ? All data is stored in the saddle. There is no database or flatfile to worry about.
[0.1.4] Can optionally require a special 'portable horse' saddle in order to function. Normal saddles will work as they used to.
Commands
All commands are under the main /portablehorses or /ph command
/portablehorses reloadconfig ? reloads the config file.
Permissions
portablehorses.saddle: allows players to save a horse to a saddle.
portablehorses.unsaddle: allows players to remove a saddle (picking up the horse).
portablehorses.spawn: allows players to spawn their horses
portablehorses.admin: allows the 'reloadconfig' command.
Configuration
How to install Portable Horses Plugin for Bukkit:
Download Portable Horses Plugin
Download ProtocolLib
Place the .jar and any other files in your plugins directory.
Run the server and wait for it to fully load.
Type stop in your Minecraft server console to bring the server to a clean stop.
Run the server.
All done! Your plugin should be installed and ready to be used.
Changelogs:
v0.1.11
Fixed another donkey dupe.

http://www.dl.9minecraft.net/index.php?act=dl&id=1379515084

http://www.dl2.9minecraft.net/index.php?act=dl&id=1379514575

Credits: metalhedd