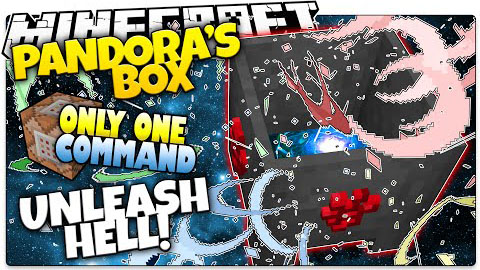 Pandora's Box in only one command block. Unleash disaster in the world with the box of Pandora. Directly from the Greek mythology into your private Vanilla Minecraft world with only one command! Break the seal of the box to unleash disaster and monsters into your world. If you open the box a second time though, you'll get the last thing, that didn't escape the box the first time, you've opened it. You'll get hope (an item).
Map Showcase:
How to install:
The first, give yourself a command block, type :
/give @p minecraft:command_block
Once you have a command block, right click it to open it's GUI.
Now, you must copy the command from Pandora's Box Command Block download link below.
Next, go back to your minecraft world, and paste the command you just copied into the command block. There are a few different keys that may be used to do this, depending on your keyboard. The most common ones are 'CTRL + V', 'COMMAND + V', or 'STRG + V'
Finally, press Done to exit the GUI, and run the command block with a Redstone block.
Command:
For 1.8
http://dl.niceminecraft.net/download.php?file=8a115cea589a8da62798c8fd3d4b3806
Credits: IJAMinecraft