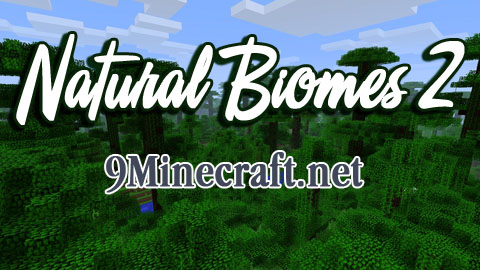 What is Natural Biomes 2?
Natural Biomes 2 Mod is one of the most interesting mod that adds more biomes that feel vanilla. The mod does just what the name makes you think. While adding those biomes, it also add variation to the biomes. This feature is quite useful. Thanks to this, players are able to have mountain, extreme hills, and normal variants of most biomes and so on. Therefore, there's no doubt that this mod is the one you should consider trying out.
Biomes:
Birch Jungle
Birch Woods
Extreme Desert Hills
Extreme Grass Hills
Extreme Woods
Extreme Snow Hills
Woods
Lush Plains
Marsh
Meadows
Rainforest
Shrublands
Sparse Woods
Thick Swamp
How to install Natural Biomes 2 Mod:

Download and install Minecraft Forge
Download Natural Biomes 2 Mod
Put Natural Biomes 2 Mod zip file into your /.minecraft/mods folder. Do not unzip it.
Done
Compatibility:
This mod uses a config file to change biome ids. If another biome mod has the same ids as mine they will cause chunk loading issues and load together. Change the ids in the config file to fix this!
However, to make life easier for you guys I have coded NB2 to work with the following mods
Download Links:
For 1.6.4
http://dl.niceminecraft.net/download.php?file=a78408ffdea8bda966517052a0435410
For 1.6.2
http://dl.niceminecraft.net/download.php?file=d623f22b03431dda86e0600cafb3bcac
For 1.5.2
http://dl.niceminecraft.net/download.php?file=407352a0f403d445f3f262c5c0800a34
Credits: Allstar602