Munchausen Fireworks is a plugin that could bring a lot fun to your server.
This plugin, according to it's name, is dedicated to my favorite (in childhood) book ? The Adventures of Baron Munchausen. If you read this book you can remember the story about Baron Munchausen and the cannon ball. I remember this story and invent a new item ? Munchausen Firework. This firework is a new item that allows players to ride the firework rocket and force other players (and mobs) to fly on it.
Features
New item: Munchausen Firework and new recipes (to create a Munchausen Firework and to power up it)
Ride firework rocket and fly!
You can control your flying direction!
Use firework to bring made any mob flying!
How to use Munchausen Fireworks
Craft the Munchausen Firework rocket
Power up rocket if necessary
Run, sprint and use your firework
Yahoooo!!!!!
Recipe
1. Creating a Munchausen Firework
You need a Firework Rocket. Place it workbench and combine it with leash.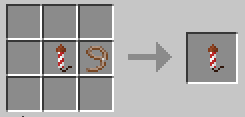 2. Increase power of Munchausen Firework
Place Munchausen Firework in workbench and add some ( 1 ? 8 ) gunpowder. Every gunpowder will increase power of rocket by one.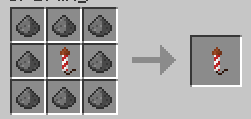 Commands
There's no commands in this plugin

Permissions
munchausen.firework ? allows to use Munchausen Fireworks
munchausen.firework.launchmob ? allows to launch mobs with Munchausen Fireworks
munchausen.firework.launchplayer ? allows to launch other players
munchausen.fireworks.craft ? allows to use crafting recipes
Configuration (config.yml)
general:
  check-updates: true # true - to enable update checker
firework:
  item: '&6Munchausen_Firework$FIREWORK'  # Firework item
  item-craft-enable: true      # Use crafting recipes
  item-remove: true             # false - to infinitive fireworks
  randomize-firewok: false  # Ignore firework settings and every time create a random firework effect
  sprint-to-fly: true               # Need sprinting to fly at firework
  decrease-takeoff-speed: true # if set to true the takeoff speed is lower than usual
Update checker
Munchausen Fireworks include a update checker that use your server internet connection. Update checker will every hour check the dev.bukkit.org to find new released version of plugin and you can easy disable it: just set parameter "version-check" to "false" in config.yml.
Munchausen Fireworks Plugin 1.7.2 Download Links
http://www.dl2.9minecraft.net/index.php?act=dl&id=1387772992

http://www.dl5.9minecraft.net/index.php?act=dl&id=1387798471

Credits: fromgate