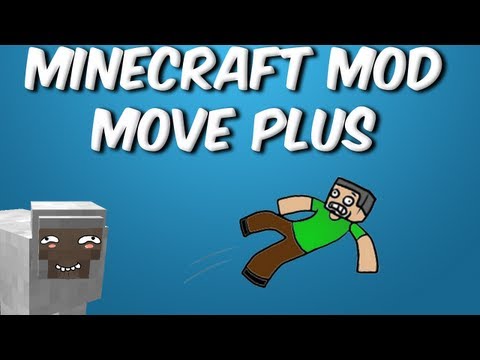 Move Plus Mod is a fascinating mod that enables players to run freely and parkour in Minecraft. As what can infer from the name, "Move" stands for "walk", "Plus" = "more"; so with this mod, you might have a little bit of limited movements.
When playing Minecraft, you will surely realize the weakness of flying is the fact that it isn't fun as running and doing tricks in the air. Therefore, if you want to run, jump and flip; this mod is a perfect one for you. Try MovePlus!
Features:
Double jump
Dodging
Dodge jumping
Wall jumping (currently no limit on how many you can do while in air)
Boost Dodging
Fall damage prevented for the velocities that these jumps add, but you can still hurt yourself if you fall too far
Near complete configuration, open up %AppData%Roaming.minecraftconfigmod_MovePlus.cfg for tweaking / activating of new features
Air control: Better movement ingame when at low speeds, subtle addition
Speed jumping: Momentum boost if you jump immediately after landing
Dodge toggle key, default 'Z' (configurable)
Auto navigation to set waypoints (default off)
Persistant running: hitting objects doesnt stop sprint
Auto jump when against a block (default off)
How to install:
Download and install Minecraft Forge.
Download and install CoroUtil.
Download the mod.
Extract zip file.
Go to %appdata%.
Go to .minecraft/mods folder.
If the "mods" folder does not exist you can create one.
Copy the contents of the folder inside into it.
Enjoy the mod.
Older versions require ModLoader and audiomod (Minecraft 1.5.2 or older)
Move Plus Mod 1.11.2/1.10.2 Download Links:
Older versions:
For 1.5.2
http://dl.niceminecraft.net/download.php?file=d4687b17c9dc9cc3ab5d8766e6d5b710
For 1.6.2
http://dl.niceminecraft.net/download.php?file=2e1f5b15cc857b183026856d761802b2
For 1.6.4
http://dl.niceminecraft.net/download.php?file=67cc3611539bd4c5bfdec1a093cfc3be
For 1.7.10
http://dl.niceminecraft.net/download.php?file=0cb931b5d4cad4157f22ec692a8b0f13
For Minecraft 1.10.2
(Not updated yet)
For Minecraft 1.11.2
(Not updated yet)
Credits: Corosus