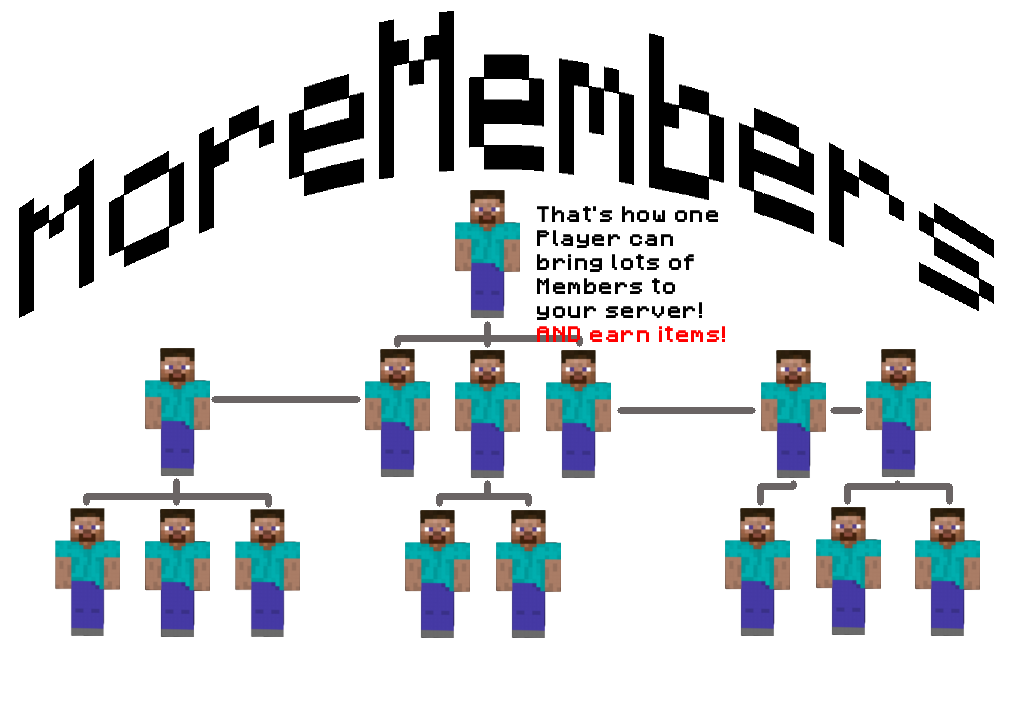 MoreMembers [Eng]
With this Plugin you can easy have more useres online! Write a Comment
MoreMembers [Ger]
Mit diesem Plugin kannst du einfach mehr Spieler bekommen! Lass ne Bewertung da
Funktions [Eng]
Full adjustable messages
Colorcodes for messages (§4 = RED)
Full adjustable Belohungen
VERY Resource light
Funktionen [Ger]
Komplett einstellbare Nachrichten
Farbcodes für Nachrichten (§4 = ROT)
Voll einstellbare Belohnungen
SEHR Resourcen Schonend
How it works? [Eng]
With this simply full costumizeable plugin you can give your player a reward, like diamonds, for inviting other Players?. And this Players will invite other? and other? and other?
Wie es funktioniert? [Ger]
Mit diesem leicht und komplett einstellbarem plugin kannst du Spielern für das Einladen von Freunden auf den Server eine Belohung wie z.b. Diamanten geben. Die laden dann neue ein? die neue? die neue?
Little Comic about it? [Eng]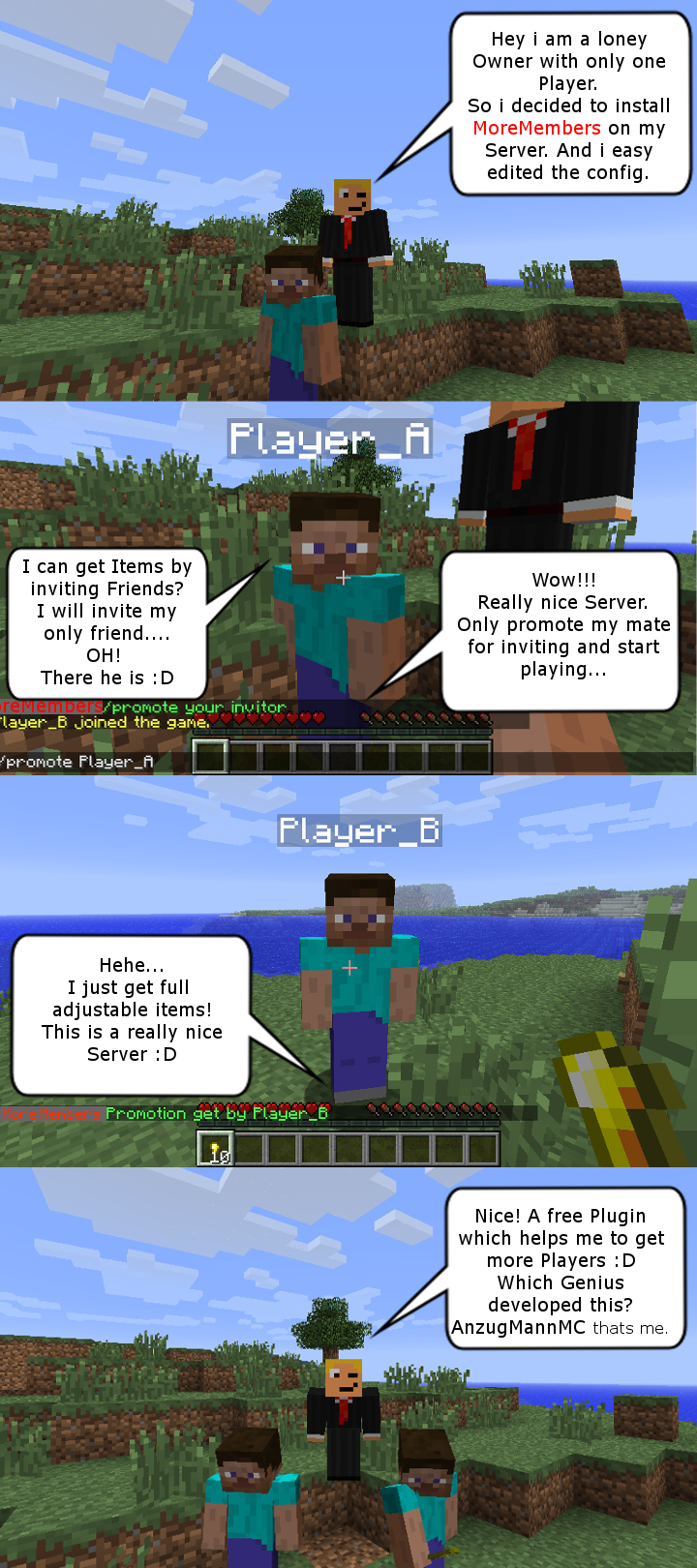 Kleiner Komik darüber? [Ger]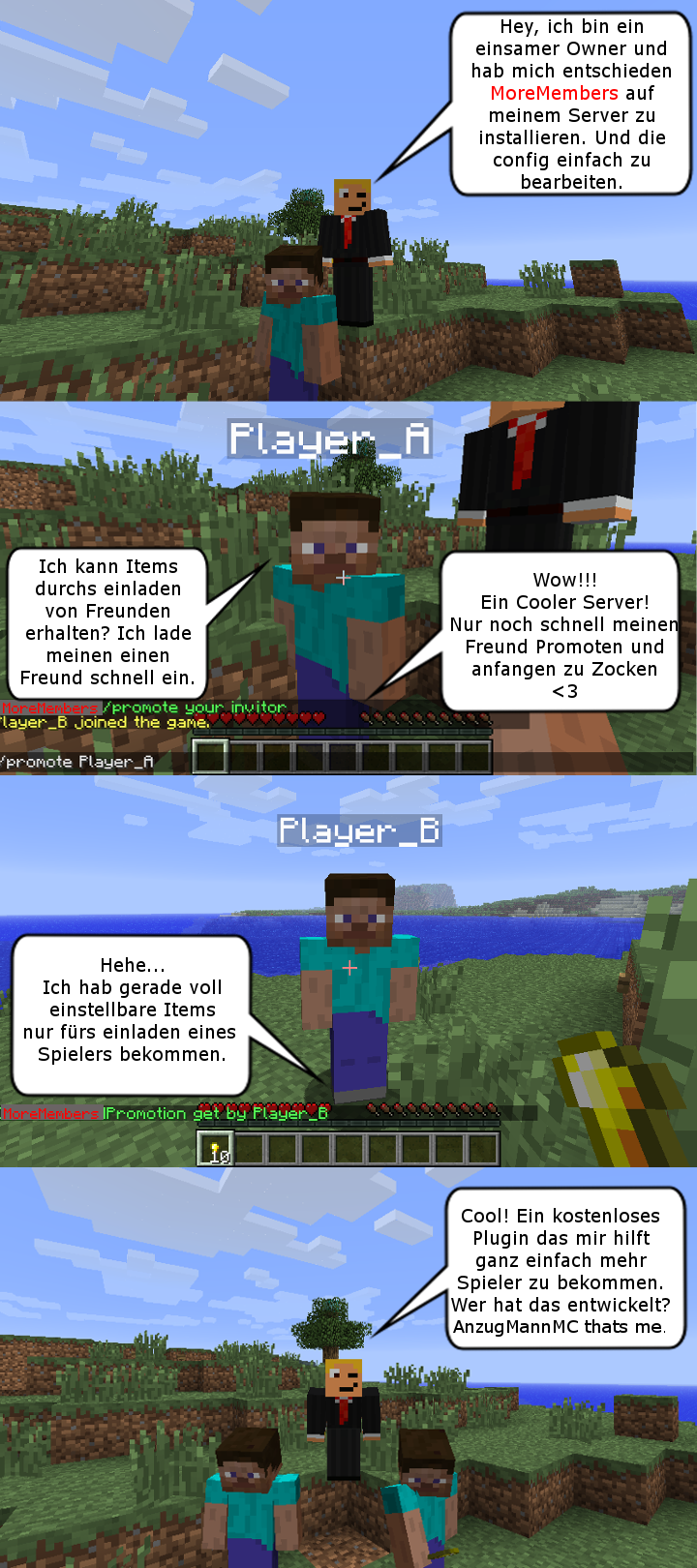 Config [Eng/Ger]
| config | explain | erklärung | default |
| --- | --- | --- | --- |
| message: | First Join Message | Erstbeitritt Nachricht | /promote your invitor |
| promote: | After you promoting somebody | Nachdem Promoten | You promoted |
| promoted: | After you get promoted | Nachdem du Promoted wurdes | Promotion get by |
| nopermissions: | No Permissions | Keine Rechte | No permissions |
| notenought: | Not Enough Args. (Forget the Player etc.) | Fehlendes Arg. (Player vergessen etc.) | Not enought arguments use /promote PLAYER |
| error: | Player Selection Errors | Player auswahl fehler | ERROR null |
| self: | When a Player try to promote himself | Beim versuch sich selbst zu Promoten | Idiot |
| reward: | The reward which will given | Belohnung die gegeben wird | GOLD_NUGGET |
| numberof: | Number of this Items | Anzahl der Items | 10 |
| already: | Already promoted somebody | Wenn du schon jemanden Promotet hast | Only in first Session or already promoted somebody. |
| firstjoinonly: | Should promoting works only in the players first session? | Soll Promoten nur in der ersten Session des Players funktionieren? | true |
| players: | Players which can?t promote sb. anymore | Spieler die nichtmehr Promoten können | – PlayerXYZ ? ABC ? XYZ ? Player_B |
Commands [Eng]
to promote sb /promote
Befehle [Ger]
Um jemanden zu Promoten /promote
Permissions [Eng]
permission: moremembers.promote
Rechte [Ger]
Rechte: moremembers.promote
MoreMembers Plugin 1.7.4 Download Link
http://www.dl2.9minecraft.net/index.php?act=dl&id=1393213380

http://www.dl5.9minecraft.net/index.php?act=dl&id=1393239679

Credits: AnzugMannMC