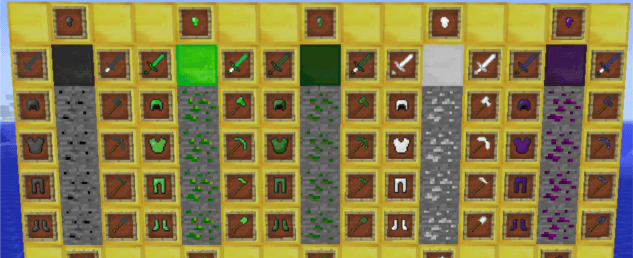 Mob Ores Mod might be something that players are waiting for. The main function of this mod is to add some of new ores related to a hostile mob into Minecraft.
The impressive feature of these ores is the fact that when they are broken with a regular pick, they will spawn the mob it is named after. Of course, you will immediately smelt them into nuggets and then craft into very powerful weapons, armor and tools. Especially, besides the normal swords, you have chance to get stronger weapons called Demon Swords. It's quite captivating.
Crafting Recipes:
Axes:
Pickaxes:
Shovels:
Hoes:
Swords:
Demon Swords:
Helmets:
Chestplates:
Leggings:
Boots:
Blocks:
Ingots:
Nuggets:
Smelting Recipes:
Install Mob Ores Mod 1.7.2
Install 

MinecraftForge
Click the download link above.
Navigate to your .minecraft folder.
Move the zip folder into the mods folder.
Download Mob Ores Mod 1.7.2
For 1.7.2
http://dl.niceminecraft.net/download.php?file=6e54250fea789b7f194e3d02774e1934
Author: saxon564