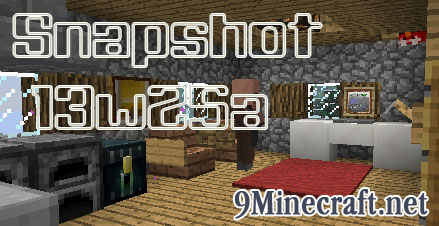 Bug fixes. Fug bixes. Whatever you want to call them, we have them! Get your hot fresh Bug Fixes here! Big ones, small ones, fun ones or annoying ones
Changelogs:
3D Anaglyph biome color corruption
Incorrect/inconsistent command success criteria breaks Comparator behavior
Possible to create a scoreboard objective without a name
Birch leaves don't use the right texture
Last played singleplayer world changes date last opened to 1/1/70
Crash selecting resource pack]
Server crash / hang after typing /kill
Flowing water / lava color corrupted after switching off 3d anaglyph
Igniting TNT doesn't reduce flint and steel durability
Some animated textures only show the placeholder texture
Crash uploading textures to graphics card
Armor bar shown too high during Health Boost or Absorption
Health and Absorption is confusing when displayed on the same line
Resource packs not effective until after restart

To get the snapshot, use the new launcher available in the link below. To return to 1.5.2, simply start the old launcher and play as normal.
Windows: Server 1 Download ? Server 2 Download

MAC/OSX: Server 1 Download ? Server 2 Download

Linux: Server 1 Download ? Server 2 Download
Server files:
Cross-platform jar: https://s3.amazonaws.com/Minecraft.Download/versions/13w25a/minecraft_server.13w25a.jar

Windows EXE: https://s3.amazonaws.com/Minecraft.Download/versions/13w25a/minecraft_server.13w25a.exe

Credits: The Minecraft and Minecraft Realms teams