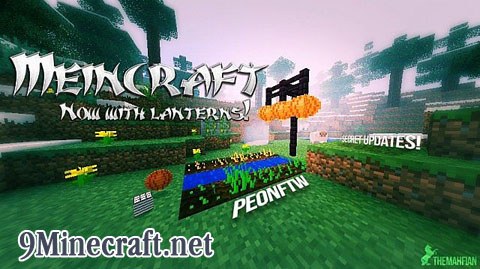 Mein is the Chinese word for noodles.
Recipes:
Tea

The rest of the food added:
Misc Ingredients

Noodles

An achievement! ? Craft some steamed rice for it to get it!

Rice
Rice ? Can be grown like wheat, when grown drops two rice

Steamed Rice ? A simple bowl of rice


Points:
Fry Rice ? A tasty bowl of rice


Points:
Congee ? A bowl of watery rice


Points:
Tasty Congee ? Congee, but saltier


Points:
Sushi
Seaweed – Used to make sushi


Points:
Fish Sushi – A sushi roll, made out of fish!


Points:
Sashimi ? Raw sushi!


Points:
Dumplings

Misc Food
Egg Tart ? A special desert!


Points:
Prawn Chips– A tasty seafood chip!


Points:
Installation:
Download and install Minecraft Forge
Download Meincraft Mod
Open up minecraft.jar with either WinRAR or 7zip.
Drag the extracted files into the jar file.
Profit
For 1.5.2
http://www.dl.9minecraft.net/index.php?act=dl&id=1369473737

http://www.dl3.9minecraft.net/index.php?act=dl&id=1369448856
For 1.5.1
For 1.4.7

Credits: peonftw