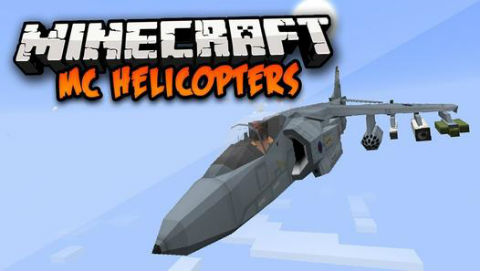 Three new helicopters – The AH-64 Apache, AH6 and EC665 Tiger are available in MC Helicopter Mod 1.11.2/1.7.10. Along with flying you can fire different weapons from the helicopters. It worth being one of the best helicopters mods created till now !
The List:
Helicopters:
AH-64D Apache Longbow
Boeing AH-6 Killer Egg
EC-665 Tiger UHT
SH-60 Seahawk
KA-27 Helix
MH-6 Little Bird
Bell 206L Long Ranger
Bell 47-G
Bell 47-G (Floaters)
MI-24V Hinde
Boeing CH-47 Chinook
MH-20L DAP
MH-60G PaveHawk
Planes:
AV-8B Harrier II
British Aerospace Harrier II
Embraer EMB 314 Super Tucano
Rex N1K1
A-10 Thunderbolt II
Cessna 172
Zero Type21
F1-M Pate
Macchi M33
US-2
Fieseler Fi167 Torpedo Bomber
AC-130H Spectre
F-14D Super Tomcat
F/A-18F
Su-33 Flanker-D
Mig-29 Fulcrum
Macchi M.C.72
Kawanishi H8K
Panavia Tornado IDS
Panavia Tornado GR-4
Zero Type21 (WWII Edition)
Zero Type52
Rex N1K1-J
Rex N1K2-JA
J7W1
KI-43
D4Y2
D4Y2-S Judy
FW190-A8R2
MIG3
UAV:
MQ-9 Reaper
Boeing AH-6 UAV
MQ-8B Fire Scout
Goblin RC Helicopter
Goblin RC Helicopter W/ Explosive
CH-47 Chinook RC Helicopter
Turrets:
MK-15 Phlanex
Oto Melara 76mm Gun
MK.15 Mod.31 SeaRAM
46cm Cannon
15.5cm Cannon
MK-32 Surface Vessel Torpedo Tubes
12.7cm AA Cannon (Shielded)
12.7cm AA Cannon
25mm Machine Gun
Type 93 Torpedo Launcher
M2HB 12.7mm Twin-Type
GAU-19/b Machine GUn
Takeyari RAM
Other:
Jetgoat (Insanely fun)
Utibi Boat (Does not sail, just decorative)
Periscope (Turns the player invisible during use; great for spying.)
HESCO Sand Barrier (Just a blocade)
Hedgehog (Decorative)
Paraglider (Cheap but slow "plane")
Helihat (One of those hats with rotablades you get as a kid. It does work!)
Ground Laser Target Designator
Screenshots:
Recipes:
How to Operate the Helicopters:
To Fly the helicopter simply right click the pilot area.
Throttle Up: W | Throttle down: S
Press "Space" to turn on hover mode.
Flying: Use the mouse to control the direction of flight.
Gunner Mode: Press "H" ? Press "Z" in gunner mode to zoom in.
While in gunner mode or in hover mod use the W,A,S,D to slightly move in selected direction.
Switch Weapons: X
Helicopter Night Vision: C
Exit Helicopter: Left Shift
How to install:
Download and install Minecraft Forge.
Download the MC Helicopter Mod from link below.
Go to .minecraft/mods folder. If the "mods" folder does not exist you can create one.

Windows – Open the Start menu and select Run, or press the Windows key + R. Type (without quotes) "%appdata%\.minecraft\mods" and press Enter.
OS X – Open the Go menu in Finder and select "Go to Folder". Type (without quotes) "~/Library/Application Support/minecraft/mods" and press Return.

Copy the downloaded jar (zip) file into the "mods" folder that opens.
Enjoy the mod.
MC Helicopter Mod 1.11.2/1.7.10 Download Links:
For Minecraft 1.5.2
For Minecraft 1.6.2
For Minecraft 1.6.4
For Minecraft 1.7.2
For Minecraft 1.7.10
For Minecraft 1.11.2
(Coming soon)
Credits: EMB4