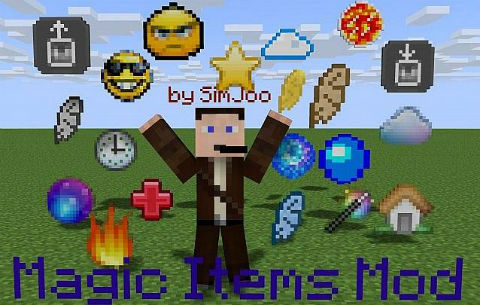 As its name says, Magic Items Mod 1.12.2 aims to add bunch of new items to mess around with. Especially, this mod supports every mod on earth, that's why it is extremely perfect for survival. Once install the mod, you will learn that there is nothing too overpowered; everything are quite awesome to play.
So if you are looking for something simple without any complex addition and no need so much time to craft; this mod is all you need.
Video:
Installation:
If your mod need Forge, you need download and install Minecraft Forge.
Open minecraft.jar file at: C:Users(your computer name)AppDataRoaming.minecraftbin or searching for "%appdata%" in your start menu. Open minecraft.jar with Winrar or Winzip.
Open the .zip/.rar/folder of your mod and drag and drop the contents into the minecraft.jar.
Delete the META-INF folder in the minecraft.jar. Then close minecraft.jar.
Open Minecraft and play!
If your mod does not work or you see a black screen: You need Delete your minecraft.jar found here "C:Users(your computer name)AppDataRoaming.minecraftbin". Then Open Minecraft, let it auto-update so your .jar can be restord. Attempt to re-install your mod.
Download Magic Items Mod 1.12.2:
For 1.7.10/1.7.2
http://dl.mod-minecraft.net/download.php?file=568267ddfa691db54f2ec4aca110ecfc