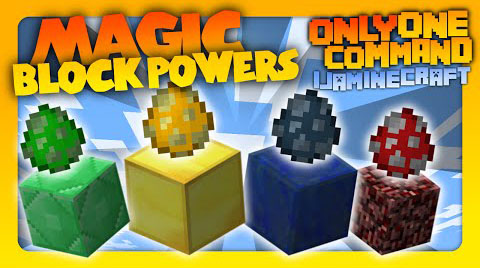 Magic Block Powers in only one command block. Get the secret magic powers of gold, lapis lazuli, emeralds and netherrack. Did you ever had too much of a certain type of block and you didn't know what to do with it? Then you should be fairly interested in this video. The 'Magic Block Powers' command allows you to extract the secret, magical powers from 4 different blocks.
Command Block Showcase:
How to install:
The first, give yourself a command block, type :
/give @p minecraft:command_block
Once you have a command block, right click it to open it's GUI.
Now, you must copy the command from Magic Block Powers Command Block download link below.
Next, go back to your minecraft world, and paste the command you just copied into the command block. There are a few different keys that may be used to do this, depending on your keyboard. The most common ones are 'CTRL + V', 'COMMAND + V', or 'STRG + V'
Finally, press Done to exit the GUI, and run the command block with a Redstone block.
Command:
For 1.8
http://dl.niceminecraft.net/download.php?file=77bfccf4e12576fd7db6da041013fa11
Credits: IJAMinecraft