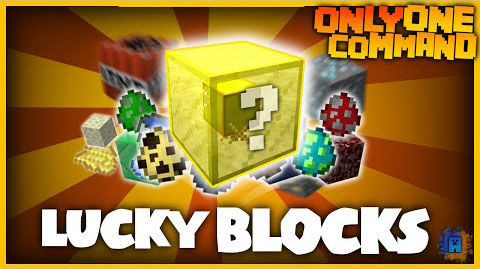 This command adds the popular 'Lucky Blocks Mod' with 62 different events to your world. And this all just with one command and in Vanilla Minecraft! Breaking one of these lucky blocks can trigger one of the 37 lucky or one of the 25 unlucky events! Besides a large variety of animals and monsters, there are also a lof of different items available! Using the overpowered lucky tools, weapons and potion, you'll can take on really great challenges.
Command Block Showcases:
How to install:
The first, give yourself a command block, type :
/give @p minecraft:command_block
Once you have a command block, right click it to open it's GUI.
Now, you must copy the command from Lucky Blocks Command Block download link below.
Next, go back to your minecraft world, and paste the command you just copied into the command block. There are a few different keys that may be used to do this, depending on your keyboard. The most common ones are 'CTRL + V', 'COMMAND + V', or 'STRG + V'
Finally, press Done to exit the GUI, and run the command block with a Redstone block.
Command:
For 1.8
http://dl.niceminecraft.net/download.php?file=f3d7a58e6a9a60a08cefcecc33c44e32
For 1.9
http://www.9minecraft.net/lucky-blocks-command-block-by-theredengineer/
Credits: IJAMinecraft