KitBattle is a kitpvp plugin, allowing players to have fair fights and enjoy the awesome kits and abilities, using soup will allow the player to last much longer in the fights, people can either fight each other or team, teaming does a huge different and might be not fair!
KitBattle-0.6 is out and waiting Approval:
Features
Soup gives 3.5 hearts
Configurable kit prices
Tokens/Shop System for kits
Smart Shop/Kit Selector System
Kills/Death gets recorded!
Sponge Launch Players High!
Cant perform None-KitBattle commands while in-game
Arena protected from in-game players
Join/Leave/Stats signs
Scoreboards!
Kits ?
Permissions
kitbattle.setspawn ? Sets the arena spawn!
kitbattle.reload ? Reloads the config!
kitbattle.addtokens ? Adds tokens for a player!
kitbattle.settokens ? Sets a player tokens
kitbattle.removetokens ? Takes tokens from a player!
kitbattle.setsigns ? Create Join/Leave/Stats signs!
Commands
Note: KitBattle can be replaced with kb
/kitbattle ? Main commands (Shows a list of commands)
/kitbattle join ? Joins the game
/kitbattle leave ? Leaves the game
/kitbattle reload ? Reloads config
/kitbattle info ? Shows info about the plugin
/kitbattle stats ? Shows your stats
/kitbattle kits ? Opens up a inventory with kits you have
/kitbattle shop ? Opens up a inventory with kits you can buy
/kitbattle tokens ? Add/Remove/Set players tokens!
/kitbattle setspawn ? Sets the arena spawn
Creating Join/Leave/Stats Signs
Join Signs:
Line 1 ? kitbattle
Line 2 ? join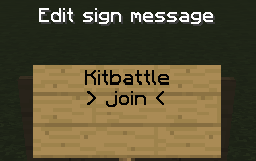 Leave Signs:
Line 1 ? kitbattle
Line 2 ? leave
Stats Signs:
Line 1 ? kitbattle
Line 2 ? stats
Required Plugins
None, but world guard is recommended for arena protection from none ingame players
Installation
Put KitBattle.jar in the /plugins folder
Add the permissions
start/restart/reload your server. (Reload with /reload)
A file named config.yml appears in the /plugins/KitBattle folder.
Open it, and there you can change the kitprices/cooldowns.
Reload the config with /kitbattle reload
Have fun
Kits
PvP, Archer, Pyro, Stomper, Kangaroo, EnderMage, Fisherman, Bomber, Switcher, Thor (0.6v)
Planned Features
Dropped bowls will be removed after 1 second of the drop! Done in Version 0.6
Please post if you want to see any of the Planned features! its all up to you guys!
Known Bugs
Note!:
Im sorry for any grammar mistakes! im not english.
KitBattle Plugin 1.7.2 Download Links
http://www.dl2.9minecraft.net/index.php?act=dl&id=1389061335

http://www.dl5.9minecraft.net/index.php?act=dl&id=1389086829

Credits: Wazup922