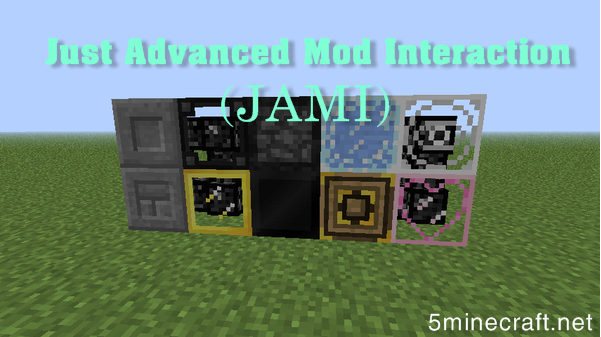 JAMI is responsible for creating a connected playing experience using multiple mods. As you see, many mod authors mean to allow other modders to extend some of their functionality, but lack the time to extend other mods' functionality themselves. That's why this mod is made to remedy this issue.
All the additions of this mod are done via modules such as Ars Magica 2, Biomes O'Plenty, Extra Utilities and so on.
For instance; with Industrial Craft 2, a machine will be added which grinds ores into dusts. Hope that you love this mod.
Supported Mods
Ars Magica 2
Biomes O'Plenty
Extra Utilities
Highlands
Industrial Craft 2
Natura
Railcraft
SoulShards 2
Tinkers' Construct
Vanilla
If you have any suggestion or problems, feel free to send me a message.
JAMI is module based. Each module has his own configuration categorie in the config file. If one or more requirement for a module is false, the module is automatically disabled. (e.g. Missing Mod)
Currently implemented modules:
ArsMagica Facades

ArsMagica Multiparts

ArsMagica SoulShards

Biomes O'Plenty Facades

Biomes O'Plenty Macerator Recipes

Biomes O'Plenty Multiparts

Biomes O'Plenty Pulverizer Recipes

Biomes O'Plenty SoulShards

ExtraUtilities Crucible Recipes

ExtraUtilities Facades

ExtraUtilities Smeltery Recipes

Forestry Multiparts

Highlands DyeFix

Highlands Multiparts

Highlands OreDictionary

IC2 Flower Macerator Recipes

IC2 HardenedClay Washer Recipes

Natura Fuel Handler

Natura SaplingsFix

Natura SoulShards

Natura Villager

Thaumcraft Cluster Smeltery Recipes

Thaumcraft Facades

Thaumcraft Multiparts

Thaumcraft SoulShards

ThermalExpansion Flower Pulverizer Recipes

ThermalExpansion Gem Pulverizer Recipes

ThermalExpansion HardenedClay Transposer Recipes

ThermalExpansion SoulShards

Tinkers' Construct Advanced Smeltery Recipes

Tinkers' Construct Aspects

Tinkers' Construct Fuel Handler

Tinkers' Construct Furnace Recipes

Tinkers' Construct Macerator Recipes

Tinkers' Construct Pulverizer Recipes

Tinkers' Construct Rock Crusher Recipes

Tinkers' Construct SoulShards

Vanilla Facades

Vanilla Multiparts

Vanilla Recipes
Download JAMI Mod 1.6.4
For 1.6.4
http://dl.mod-minecraft.net/download.php?file=9ae278785d01a206396eb6178ab57ff6
Author: