Main
This Minecraft plugin is specifically designed for server administrators! You can clear the chat with one simple command!
You can format the text easy in the config. Also with ColorCodes! (using the & symbol) and Playernames! (using %player%)
For example: ?&1Chat has been cleared?, your text will appear in dark blue after clearing the chat!
All together there are 16 colours you can use (including white)!
Example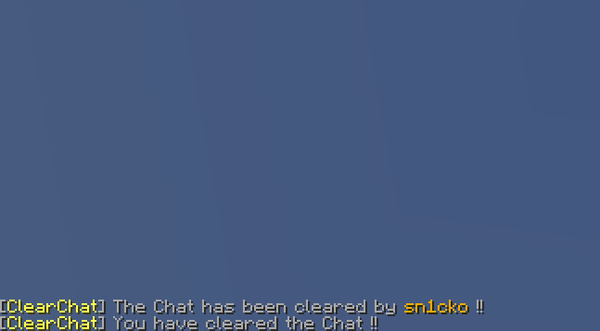 Commands
/cc ? clears the global chat
* Aliases for cc: /chatclear /clearchat /cclear /cchat
/cl ? clears the local chat
* Aliases for cl: /clocal
Permissions
iclearchat.use = allows you to clear the global and the local chat
iclearchat.local = allows you to clear the local chat
iclearchat.global = allows you to clear the global chat
Installation
Download InstantChatClear and put the InstantChatClear.jar file into your ?plugins/? folder.
Give out permissions.
Run your server and InstantChatClear is installed.
InstantChatClear Plugin 1.7.2 Download Link
http://www.dl2.9minecraft.net/index.php?act=dl&id=1393224823

http://www.dl5.9minecraft.net/index.php?act=dl&id=1393251109

Credits: sn1cko, AgreSith