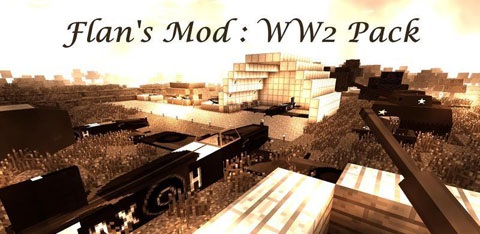 Flan's World War Two Pack Mod 1.11.2 installs several new fantastic functions:
Deployable Machine Guns
Japanese Weapons
Russian Weapons
Lancaster Bomber
Flan's World War Two Pack also contains cars, tanks, fighter planes, bombers, AA guns and a ton of weapons to have fun for hours on end. Multiplayer is coming soon.  (The Sopwith Camel and Fokker Dr.1 are attached with this pack because there is not enough content to create a separate WW1 pack)
Recipes:
Craft the weapon boxes, place them and click them for an abundance of weaponry.
German Weapon Box and Japanese Weapon Box
British Weapon Box and American Weapon Box
Russian Weapon Box
Sopwith Camel and Fokker Dr.1
BF109 and P-51 Mustang
Spitfire and Lancaster Bomber

Willy's Jeep and Sherman
Kubelwagen and Panzer IV
How to install:

Download and install Simple Parts Pack.
To install a custom content pack, Download the file below.
You should have downloaded a zip file with a folder and probably a readme inside.
If the /.minecraft/Flan/ directory does not exist, create it. It should automatically be created when you run Minecraft with Flan's mod installed.
Copy the folder into the /.minecraft/Flan/ directory.
Run Minecraft, and hopefully everything will work out nicely.
Flan's World War Two Pack Mod 1.11.2 Download Links:
Older versions:
For 1.5.2
http://dl.niceminecraft.net/download.php?file=4e17fe090b37521058dbe5ae0e252ed7
For 1.6.2
http://dl.niceminecraft.net/download.php?file=25477fd5f0bf703776efbbbdbf7cae9d
For 1.6.4
http://dl.niceminecraft.net/download.php?file=2da807c3ea42d543ae3f8aec29231f5f
For 1.7.2
http://dl.niceminecraft.net/download.php?file=4a93e78b8807b75862e34cfa3718fc95
For 1.7.10
http://dl.niceminecraft.net/download.php?file=8b0ca1e1fc9b055501094f5beacefff5
For 1.8
http://dl.niceminecraft.net/download.php?file=ff78926e9d3cfc1fde533f71362329c6
For Minecraft 1.11.2
(Coming soon)
Credits: jamioflan