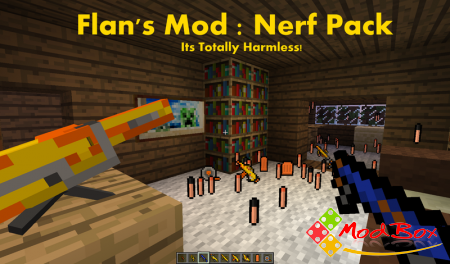 Flan's Nerf Pack can be called the world of toys Nerf guns that are completely harmless and do no damage whatsoever. But what to do with harmless guns, they are totally useless. It might be absolutely right in some case, though I have plans for some interesting multiplayer gametypes for this pack.
Recipes:
Plastic and Foam
D Battery and Spring
Nerf Blaster Box
How to install Flan's Nerf Pack Mod for Minecraft:

Download and install Simple Parts Pack.
To install a custom content pack, Download the file below.
You should have downloaded a zip file with a folder and probably a readme inside.
If the /.minecraft/Flan/ directory does not exist, create it. It should automatically be created when you run Minecraft with Flan's mod installed.
Copy the folder into the /.minecraft/Flan/ directory.
Run Minecraft, and hopefully everything will work out nicely.
Nerf Pack Download Links:
Older versions:
For 1.5.2
http://dl.niceminecraft.net/download.php?file=c16f9b6bbdbd0658558b7340915d32b1
For 1.6.2
http://dl.niceminecraft.net/download.php?file=6b45058248b8e7253c40b6170c347f5a
For 1.6.4
http://dl.niceminecraft.net/download.php?file=b92bafa2eb1fb71aba21f50304173ef4
For 1.7.2
http://dl.niceminecraft.net/download.php?file=363d6bfb0c68aea2bfe86e15d5beb7b0
For 1.7.10
http://dl.niceminecraft.net/download.php?file=274b382eea1ed6e7bd04a71a13d9cc37
For 1.8
http://dl.niceminecraft.net/download.php?file=ce18d64301dd1cc6ab972519af4a1be1
Credits: jamioflan