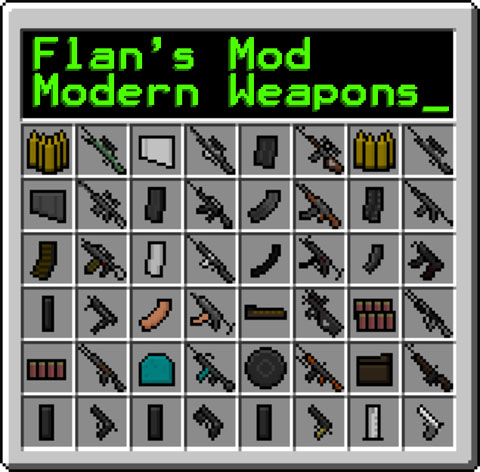 Flan's Modern Weapons Pack Mod 1.11.2/1.7.10 is an absolutely incredible mod which implements a pack of modern weapons into the game to bring delightful time using for players. Inside this mod, you will find a collection of modern weapons and they can defend you form those dangerous creepers in game
Though this mod lacks of guns, planes or vehicles and a little smaller size when compared to the WW2 pack; with the advanced protection, it promises to deliver impressive weapons for play using.
Recipes:
All the guns seen above (and a few more) are obtainable from the following gun box. To make many of the guns in the box, you will need some fibreglass as well.
Modern Weapons Box and Clay and Sand Mixture
Fibreglass
How to install:

Download and install Simple Parts Pack.
To install a custom content pack, Download the file below.
You should have downloaded a zip file with a folder and probably a readme inside.
If the /.minecraft/Flan/ directory does not exist, create it. It should automatically be created when you run Minecraft with Flan's mod installed.
Copy the folder into the /.minecraft/Flan/ directory.
Run Minecraft, and hopefully everything will work out nicely.
Flan's Modern Weapons Pack Mod 1.11.2/1.7.10 Download Links:
Older versions:
For 1.5.2
http://dl.niceminecraft.net/download.php?file=edae0a07540cbc473d3ad538ff7d2d51
For 1.6.2
http://dl.niceminecraft.net/download.php?file=33b684b77d61646b936cf88f31875c54
For 1.6.4
http://dl.niceminecraft.net/download.php?file=049870e998f8c68210033cbf48fc9777
For 1.7.2
http://dl.niceminecraft.net/download.php?file=c539a5d487c0180a90bbea5e35fe649c
For 1.7.10
http://dl.niceminecraft.net/download.php?file=319b23333b5203bed50bf7e077b0a5f3
For 1.8
http://dl.niceminecraft.net/download.php?file=81e8c7cd6c0aefcdfbb6172608c97128
For Minecraft 1.11.2
(Coming soon)
Credits: jamioflan