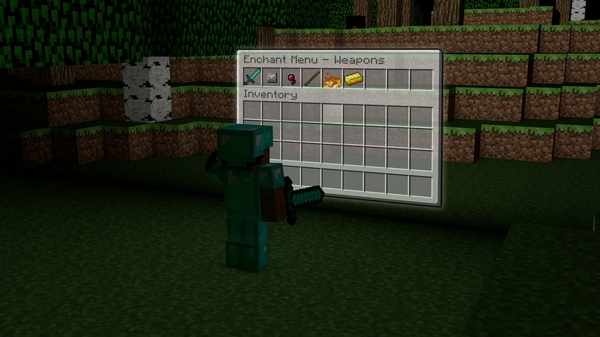 Hello, today I want to present you my first plugin,
Functions:
Add enchantments easily to your weapons, tools, armory, etc?
Different enchantment groups
Customizable Cooldown
Vault Support
Customizable Prices
XP-Payment
Possibility to combine different payment-methods
Commands
| | | |
| --- | --- | --- |
| Command | Function | Permission |
| /em <category> | Opens EnchantMenu | em.open |
How to use
Copy ?enchantmenu.jar? into your plugins Folder
Restart/Reload server
Select the item you want to enchant
Type ?/em <category>? and click on the enchantment you like
Configuration
Use Levels: true/false
Cooldowns:

Use Cooldowns: true/false
Time to wait in seconds: 60

Use Vault: true/false
Use Metrics: true/false
Change prices and xp-cost in two seperated files
Metrics
This plugin utilises Hidendra?s plugin metrics system, which means that the following information is collected and sent to mcstats.org:
A unique identifier
The server?s version of Java
Whether the server is in offline or online mode
The plugin?s version
The server?s version
The OS version/name and architecture
The core count for the CPU
The number of players online
The Metrics version
Opting out of this service can be done by editing plugins/Plugin Metrics/config.yml and changing opt-out to true.

To-Do
Vault-Support
Different enchantment groups
Different enchantment levels
More languages
Possibility to buy enchantments with xp
Sign-Support ->
Support
Please post any issues you have in the comments, and I will fix them as soon as I can!
If you like my plugins and my work and want to support me, feel free to donate with the button on top of the page
EnchantMenu Plugin 1.7.2 Download Link
http://www.dl2.9minecraft.net/index.php?act=dl&id=1392951292

http://www.dl5.9minecraft.net/index.php?act=dl&id=1392977607

Credits: schegar