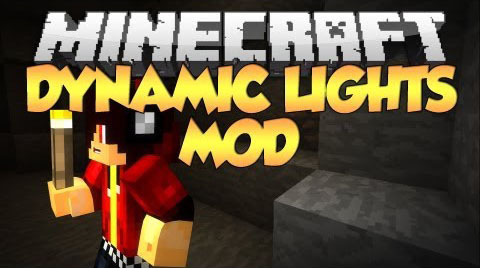 Dynamic Lights Mod 1.12.2 releases a few excellent touches with Minecraft's lighting system to facilitate in terms of discovering caves due to the proactive lighting mod. The surrounding area will be lighted up as holding a torch, glowstone, etc. The same thing appears if you throw the lit item. The mod improves 'shining' items (default: Torch, Glowstone, Glowdust, Lit Pumpkin, Redstone, Lava Bucket, powered Minecart) to illuminate everything around them if
The player has them equipped (in hand/armor)
They are dropped on the ground
Another player has them equipped in Multiplayer
Moreover, burning Entities (Creatures, Items) leads to shine light. Any Item ID you desire as shiny item can be added through the settings file. It supports armor items as well. You may also configure whether an item still shines if in water, and how long it shines once you hold or drop it.
Toggle button ingame:
The default key is"L". You can turn all dynamic Lights on/off with it. You can change the key in the config file. There is no limit to the number of lights you can create, note however they are fairly FPS-costly, and the mod will attempt to reduce lighting render updates frequency if you overdo it. I recommend using
Optifine HD for replacing Notch?s funky render code with slightly less funky rendering code. Optifine should maintain full Dynamic Lights compatibility unless i break it. The mod should work in Multiplayer by default, yet is clientside, it cannot lag servers. Note however ?dropped? light sources will not prevent Mobs from Spawning, and neither will your handheld light.
Dynamic Lights now modular:
BurningEntitiesLightSource -> Living Entities that burst into flames! Multithreaded! *expensive*
ChargingCreeperLightSource -> Creepers about to explode light up! *cheap*
DroppedItemsLightSource -> Dropped Items in the world. Also when they?re on fire. Multithreaded! *expensive*
PlayerSelfLightSource -> Handheld Items and Armor on yourself. Also when you?re on fire. *cheap*
PlayerOthersLightSource -> Handheld Items and Armor on others. Also when they?re on fire. Multithreaded! *fairly cheap*
To remove modules you dont want or cant afford (your machine is an asthmatic train wreck, or a Mac), simply remove (delete) them from the mod .jar /atomicstryker/dynamiclights/client/modules folder. Yes, the mod will continue to work. If you delete all modules, the mod won?t do anything.
Mod Spotlight:
How to install:
Download and install Minecraft Forge.
Download the Dynamic Lights Mod from link below.
Go to .minecraft/mods folder. If the "mods" folder does not exist you can create one.

Windows – Open the Start menu and select Run, or press the Windows key + R. Type (without quotes) "%appdata%\.minecraft\mods" and press Enter.
OS X – Open the Go menu in Finder and select "Go to Folder". Type (without quotes) "~/Library/Application Support/minecraft/mods" and press Return.

Copy the downloaded jar (zip) file into the "mods" folder that opens.
Enjoy the mod.
Dynamic Lights Mod 1.12.2 Download Links:
Older versions:
For 1.7.2
http://dl.niceminecraft.net/download.php?file=42f2d8a719f027cb15afefd0320ba4b3
For 1.7.10
http://dl.niceminecraft.net/download.php?file=6aa2c2dff87555de7420a6db547c7887
For 1.8
http://dl.niceminecraft.net/download.php?file=834217f7de9796f4fd9b85b2f130f0df
For 1.8.8
http://dl.niceminecraft.net/download.php?file=1225e75beb57e6773210ce2540df6bc2
For 1.9
http://dl.niceminecraft.net/download.php?file=3f5ab64a79b9fb206bfcf207e12afb7e
For 1.9.4
http://dl.niceminecraft.net/download.php?file=30646ac21d3b78f163278e76a1be48be
For 1.10.2
http://dl.niceminecraft.net/download.php?file=d8830fe1d6c1c33bc23acc71dae8481a
For 1.11
For 1.11.2
For Minecraft 1.12
For Minecraft 1.12.1
For Minecraft 1.12.2/1.12.1
Credits: AtomicStryker