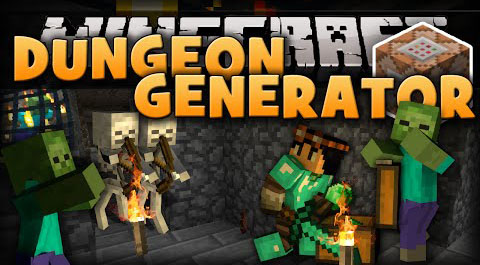 Dungeon Generator in only one command block. This dungeon creator can create large, random dungeons for you! The dungeon rooms are filled with random spawners, chest and other stuff. Custom loot, spawners and a whole lot of mobs to fight off in this underground maze.
Map Showcase:
How to install:
The first, give yourself a command block, type :
/give @p minecraft:command_block
Once you have a command block, right click it to open it's GUI.
Now, you must copy the command from Dungeon Generator Command Block download link below.
Next, go back to your minecraft world, and paste the command you just copied into the command block. There are a few different keys that may be used to do this, depending on your keyboard. The most common ones are 'CTRL + V', 'COMMAND + V', or 'STRG + V'
Finally, press Done to exit the GUI, and run the command block with a Redstone block.
Command:
For 1.8
http://dl.niceminecraft.net/download.php?file=8438b9600bdd45233420d4be3438db87
Credits: IJAMinecraft