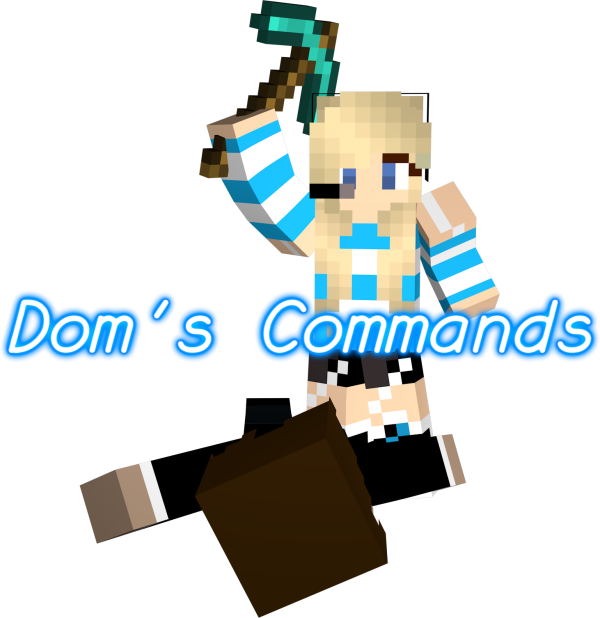 About Dom's Commands
Dom's Commands is a plugin (Similar to Essentials) that provides basic command support for players. Dom's Commands is designed slightly differently, as Essentials tends to just read and write to files, Dom's Commands will stay in memory until a save occurs.
Main Features
Currently Dom's Commands has the following Features:
Custom Chat Channels
Over 70 Different commands
Smarter TAB Completing
Custom Help and Rules
Lag Assisting threads that will run the garbage collector when necessary.
Kits, World Seperated Inventories, Warps, and Homes, with Tab Completing options for all
Custom Join, Leave, Kick, Welcome, New Player, Server shutdown and motd Messages
Full Punishment commands (Similar to my SELBans plugin, but with YML instead of SQL)
Away (AFK) timer, auto kick, custom commands that cancel and don't cancel, custom kick and warn messages
Shutdown Commands that run when /stop is run
Safe Teleport Locations, stop players teleporting into blocks
1.7 Ready, Not using Item IDs but instead using Item Names
Offline Player support, such as teleporting to offline players, setting their nickname and viewing settings
Overriden commands that can be overriden by other plugins
Efficient, Recognising more common players and making them faster to find by the plugin, plus we're constantly tweaking the code to maximize efficiency and keep the server operating smoothly.
Plus more to come soon!
Planned Features
Many Features are still in planning and will be worked on over time, the follwoing commands are planned with many more in development already.
/megasmite
/smite
/kiss
/hug
/rocket
/explode
/god
/whitelist
/seed
/setspawn
/difficulty
/save-all
/banlist
/trykit
/bans
/kicks
/warns
/mutes
/punishments [type] [player]
/i2b
/kickall
/deafen
And Many Many more things to come!
DomsCommands Plugin 1.6.4 Download Links
http://www.dl2.9minecraft.net/index.php?act=dl&id=1384936285

http://www.dl5.9minecraft.net/index.php?act=dl&id=1384961699

Credits: DOMIN8TRIX25