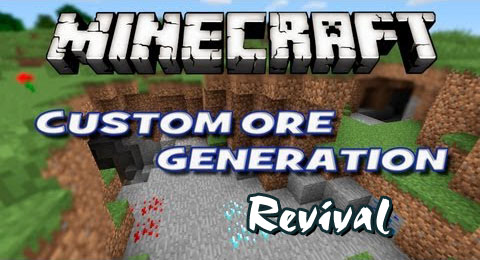 Custom Ore Generation 1.12.2: First Revival Mod has been designed to allow players to decide the kind of ores generated in their worlds and how these ores are distributed.
Like the name suggests, Customization is the main objective of this mod. As a result, you are able to change any aspect of the ore generation through the flexible config file and the more succinct in-game menu.
Please see the original thread for more information. Hope this revival of the venerable Custom Ore Generation will satisfy you.
Changelog
1.0.24: Fixed deployment of the Galacticraft config.
1.0.23:
Rework the height scaling (see github wiki)
Galacticraft config added (thanks to Gaelmare)
Leave saltpeter generation to Railcraft (thanks to Gaelmare)
Various mod config cleanups (thanks to Gaelmare)
Fix bug when substituting with air blocks, and issue with Railcraft sulfur
Download Custom Ore Generation: First Revival Mod 1.12.2
For 1.7.10
http://dl.niceminecraft.net/download.php?file=c4690cc96311f83af70703e78ecfc999
For 1.7.2
http://dl.niceminecraft.net/download.php?file=74030b85e32ae27a2e4c33e46fa2f238
For 1.6.4
http://dl.niceminecraft.net/download.php?file=74b37516b71bb53dfd7fd4042c94a2e2
For 1.6.2
http://dl.niceminecraft.net/download.php?file=36118d7794421dcfeb7596c85baf3172
Author: noogenesis