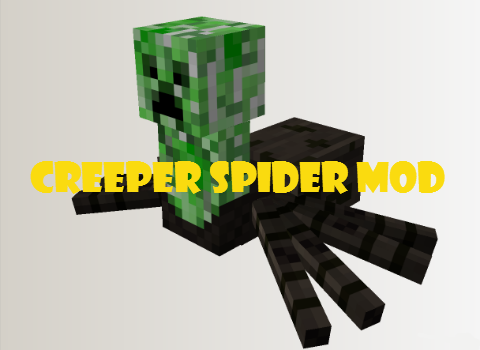 Creeper Spider Mod 1.12.2 is a pretty thrilling mod that adds a new scary monster called Creeper-Spider to Minecraft. Well, that's sound fantastic. Belows are some information about this monster:
 Health points: 16 (Heart.svg × 8)
Drops: String (0-2) on non-explosive death.
Gunpowder (0-1) when killed by the player.
You have to be extremely careful since this monster is quite dangerous. Because Creeper-Spider is the combination of creeper and the spider, it combines the capabilities of them. That means Creeper-Spider not only runs fast, climbs walls and makes step noise like a spider; but also explores, gets supercharged by lightning, and attacks during both day and night like a creeper. Watch out or you will be attacked immediately.
However, it's interesting to know that its weakness is the sight of a terrifying kitty. Let's make use of this weakness to fight it. Let's install the mod to find out many other crazy things.
See also: another monster Monster Girl Mod
Download Creeper Spider Mod 1.12.2
For 1.7.10
http://dl.niceminecraft.net/download.php?file=ffe2abd220fe2d71e5e0a1509ad52521
Author: Icedice9