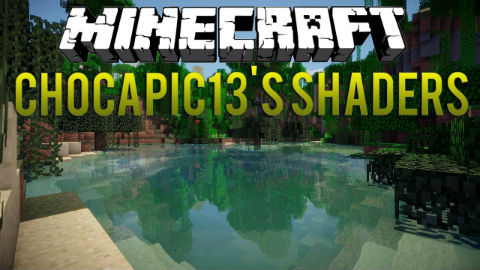 Chocapic13 Shaders Mod 1.12.2 enables players to add lighting effects and other packs to the game to make Minecraft world more realistic. The striking effect of this mod is dynamic shadows. You will see everything more vibrant from the real sunshine, a better replica of water to a pleasing effect of wind on the leaves. In particular, one more impressive effect is the fog which appears in the dark or rainy night to create the most horror or moody atmosphere.
In this mod, you also can make any adjustments in the inner working of the mod to achieve the best high quality performance to have more realistic experiences. This shaders have several different versions to browse and it's important to note that low-end PC users may struggle when using this shader pack, so keep that in mind to work well.
Features:
Parallax Occlusion Mapping (add relief to blocks + reflections)
Bumpmap (less performance expensive method to add relief + reflections)
Classic (no relief and standard graphic amelioration)
Screenshots:
Amazing nights!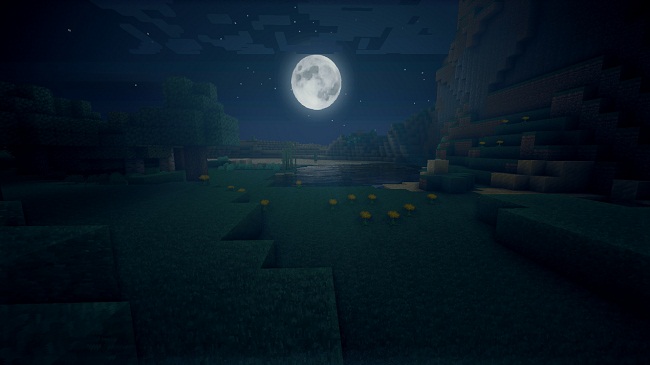 Real-time shadows,lens effects,volumetric lightning and reflections!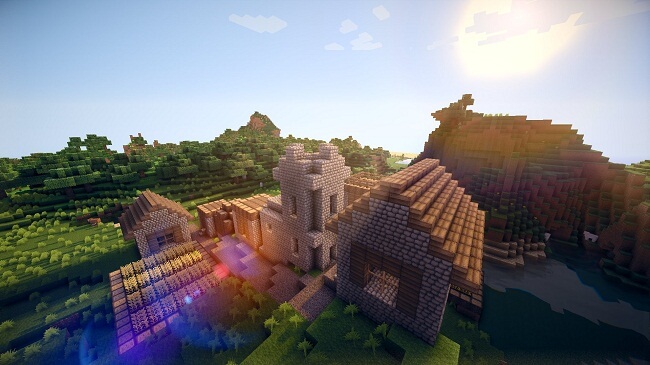 Surfaces become wet and reflective when raining!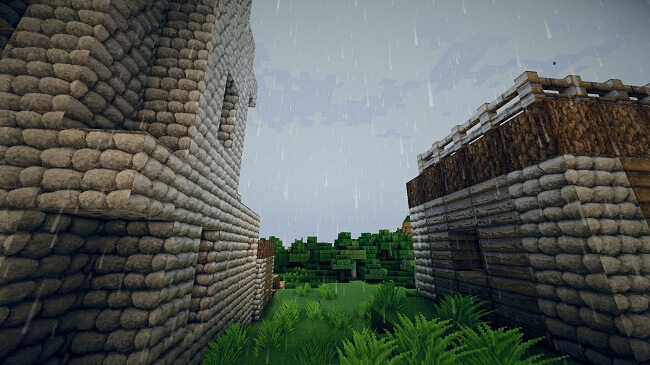 Installation:
Download and install Optifine HD
Download and install Minecraft Forge (If you are using MC 1.7.2)
Download and install GLSL Shaders Mod
Download Chocapic13 Shaders Mod
Drag and drop into your minecraft.jar the files for your minecraft version
Drag and drop the content of the ?tp? folder into your favorite texturepack and turn custom colors on optifine settings
You are now able to use one of the ?original? presets : go into the ?shader? folder then into the ?original? folder and choose a performance preset. Open the folder corresponding to the performance preset you choose, open this ?shaders? folder and drag and drop all the .fsh and .vsh files into your minecraft.jar/shaders.
To change shaders simply replace the content of the shaders folder for another shader preset.
Optifine settings :
Mipmap level : 3 or max,except if you are using parralax occlusion set it to 1 or 2
Rain : fast (fancy is too slow and don?t add something really noticeable)
Fog : off
Custom colors : on
Chunk update : multi-core
Advanced opengl : off (better on for parralax occlusion and 1.4.6/1.4.7)
Lazy chunk update : off
Updates per frame : 1
Smooth fps : off
Smooth world : off
Cloud height : what you want (disable clouds shadow in shaders button options with 1.4.6/1.4.7)/ at least 60 (for 1.4.5)
Anisotropic/antialiasing : off
And enable fxaa for nvidia or mlaa for amd into your control panel for antialiasing!
Nvidia Users : disable threaded optimisation into the nvidia control panel
About performance and sytem requirements:
This mod is very demanding and if you can?t run default minecraft correctly, don?t try to install this mod.
In my case with a GTX 670 i get around 50-60 fps with the extreme version, 75-80 with ultra,90-95 with high, 100-110 with medium and above 150 with low (cpu limited here) with a 16 chunks render distance. This can change a lot depending on the situation.
Advanced tips:
Into the shaderpack folders there are .fsh and .vsh files. You can open them with any text editor, and there are different constant that you can change by yourself.
You can increase the render resolution into the shaderpack settings. x1.42? correspond to SSAA x2, x2.0 to SSAA x4. However it kills the framerate.
Shadow render resolution can be increased too here.
Chocapic13 Shaders Mod 1.12.2 Download Links:
For All Minecraft Verions:
Extreme version
http://dl.niceminecraft.net/download.php?file=bbc4f39b1d347c375d5964f9b48d9d2e
Ultra version
http://dl.niceminecraft.net/download.php?file=8f8e208f032047048df4f07098100561
High version
http://dl.niceminecraft.net/download.php?file=a93d4814bdab785374af7b7780f79ecb
Medium version
http://dl.niceminecraft.net/download.php?file=aa149fe52ef85b3750f7432ed39d67fb
Lite version
http://dl.niceminecraft.net/download.php?file=361cd7aa8f17e656f1b36f46faa8ef9b
Credits: chocapic13