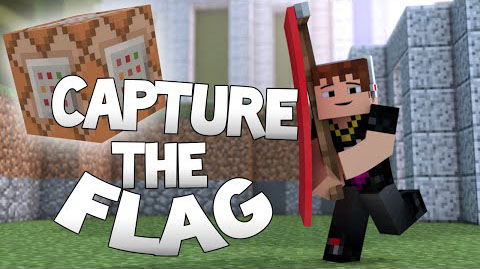 This creation adds a Capture the Flag gamemode into your world. This can be used in PvP maps. There are several special items added: Red flag, Blue flag, Wrench for removing flags, and team manipulation blocks for joining and leaving red and blue teams. System also tracks several scores: CFcaptured, CFstolen, CFretrieved, CFfound. You can display them in a sidebar by using this command:
/scoreboard objectives setdisplay sidebar SCORENAME
Command Block Showcase:
How to install:
The first, give yourself a command block, type :
/give @p minecraft:command_block
Once you have a command block, right click it to open it's GUI.
Now, you must copy the command from Capture the Flag Command Block download link below.
Next, go back to your minecraft world, and paste the command you just copied into the command block. There are a few different keys that may be used to do this, depending on your keyboard. The most common ones are 'CTRL + V', 'COMMAND + V', or 'STRG + V'
Finally, press Done to exit the GUI, and run the command block with a Redstone block.
Command:
For 1.8
http://dl.niceminecraft.net/download.php?file=abf36eba36bf04740a6d75631360ba2e
Credits: Ozillion