Description
BookStats allow your players to there in-game stats. They are able to check stats such as Money, Kills, Deaths, Mob Kills, Blocks broken, Blocked placed and online time, gamemode, IP and online players. When they type /bstats they will receive a book with all these stats.
Example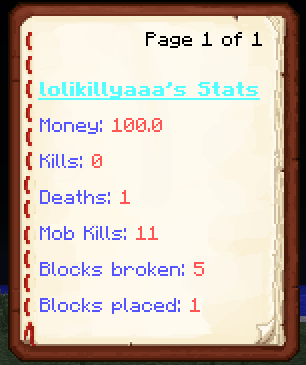 Command/Permssion
Command
/BStats
Info: Gives you your stats in a book!
Permissions:
BookStats.DenyDeathDrop
Info: Deny's dropping BookStats books on death.
BookStats.DenyDrop
Info: Deny's throwing BookStats books.
Requirements
This plugin requires vault and a economy plugin like essentials.
Support
BookStats Plugin 1.6.4 Download Links
http://www.dl2.9minecraft.net/index.php?act=dl&id=1385264155

http://www.dl5.9minecraft.net/index.php?act=dl&id=1385289589

Credits: zeshan321